Hey, everyone!
How's your relationship with vegan cuisine? When you hear "vegan", do you think it's just another term for vegetarian? Well, it's evolved quite a bit and is now a popular, healthy lifestyle many are embracing.
With the advent of COVID-19, the demand for healthy, tasty, and low-calorie foods has seen a rise as we've all become more health-conscious. And guess what? Jeonju, a city famed for its culinary delights, is stepping up with some interesting vegan restaurants and cafés!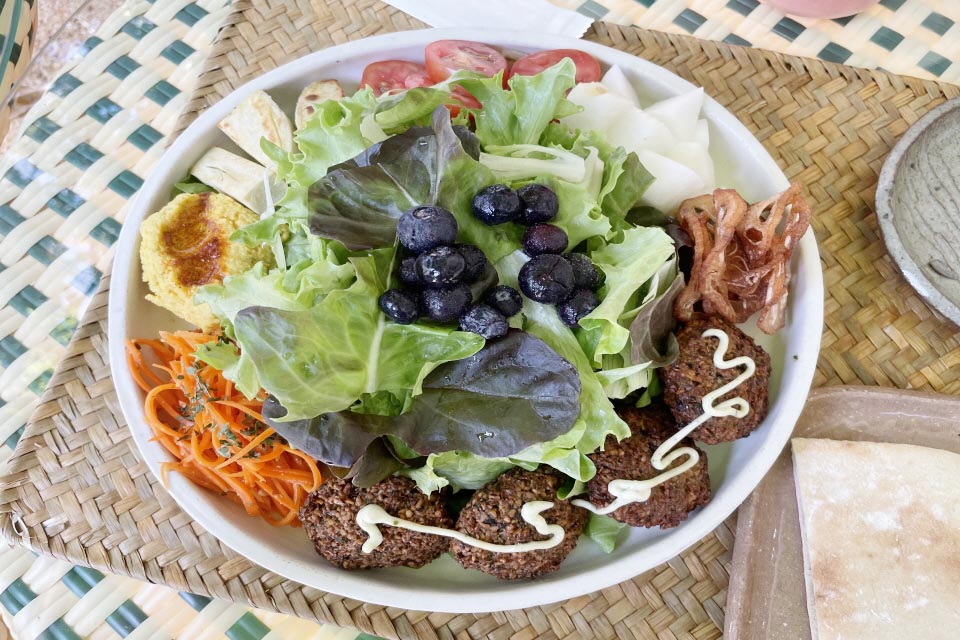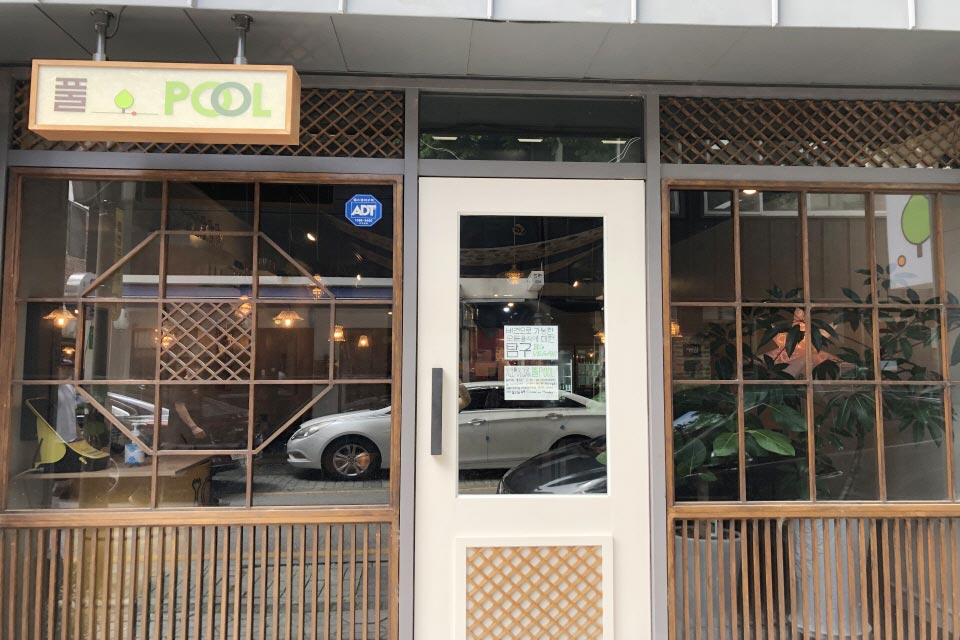 "Your Vegan Haven in Jeonju: POOL"
So, to start off my summer right and enjoy a wholesome meal, I decided to explore a vegan hotspot in Jeonju, the "POOL". This place, located on Jeonju's Weri-dan Street, is not just for vegans; it's a place where anyone can enjoy a delicious meal.

POOL
– Address : 13-8 Jeolla Gamyeong 3-gil, Wansan-gu, Jeonju, Jeollabuk-do, South Korea
– Parking : Shinseong Parking Lot available, 1-hour free
– Opening Hours : 11:30 AM – 8:00 PM (Break time: 2:30 PM – 5:00 PM), Closed on Mondays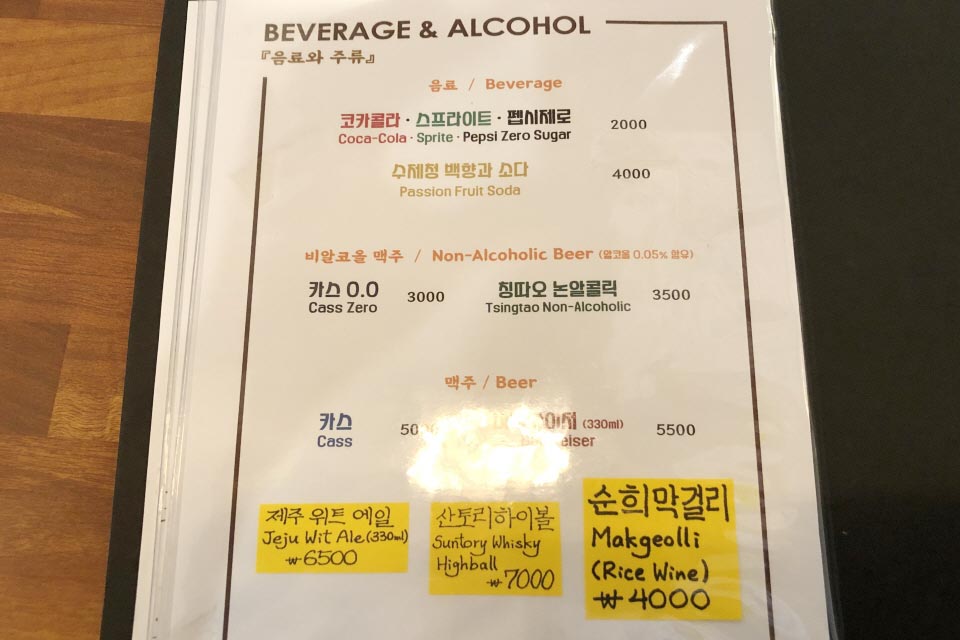 At POOL, they strive to explore all possible vegan dishes, which makes it a highly visited spot.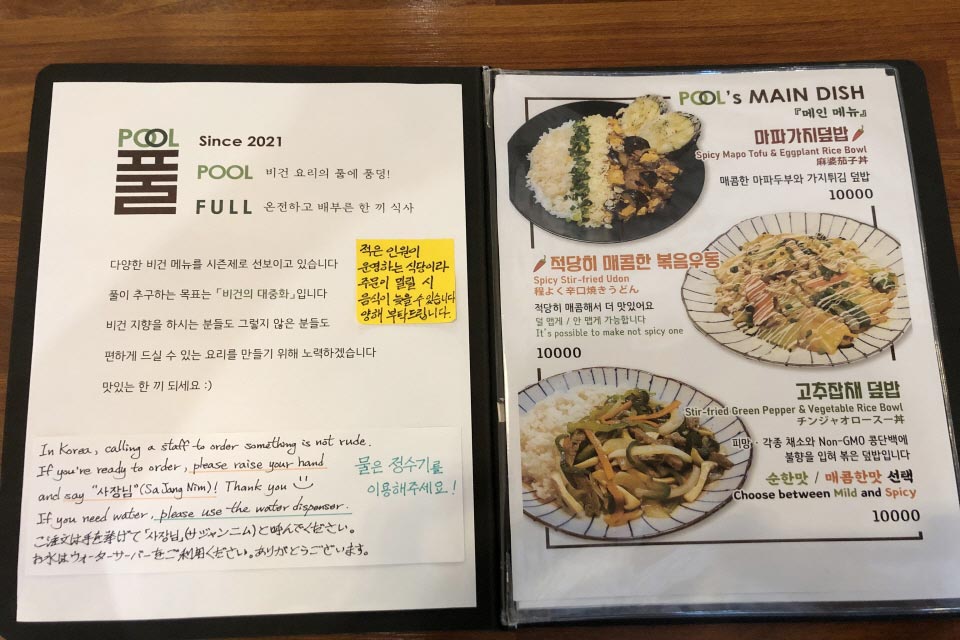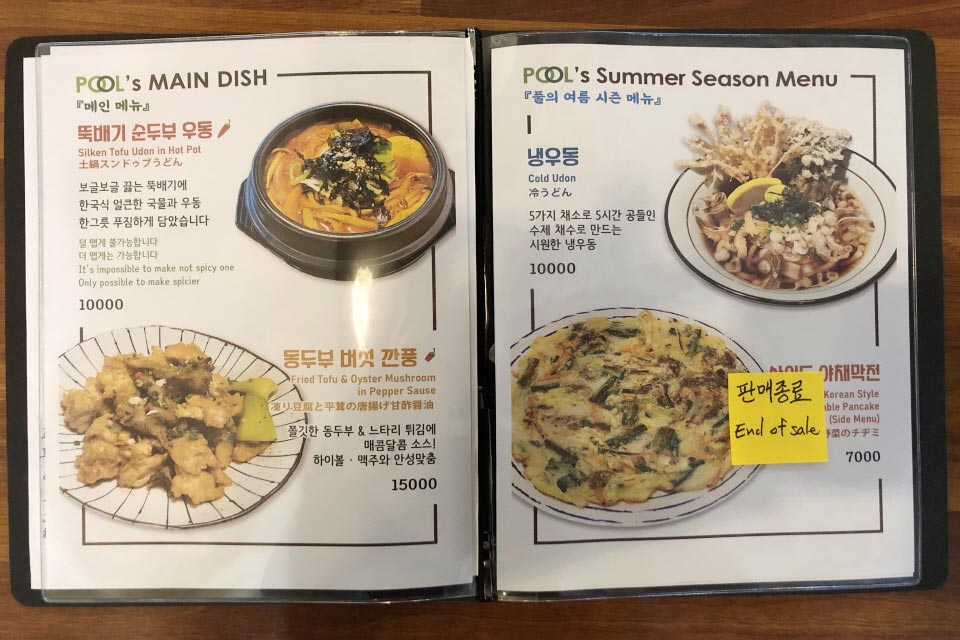 "Diverse Menu for Everyone"
Vegan cuisine may be unfamiliar territory for many in Korea, and you might be unsure about visiting a vegan restaurant, fearing it might not meet your taste expectations or you might not know what to order. Well, fret not at POOL!
They offer a range of dishes to please all palates, from simple meals to delightful appetizers that go perfectly with a drink. I ordered the refreshing summer dishes: Cold Udon, Spicy Stir-Fried Vegetables over Rice, and Tofu Mushroom Sweet and Sour, with a friend.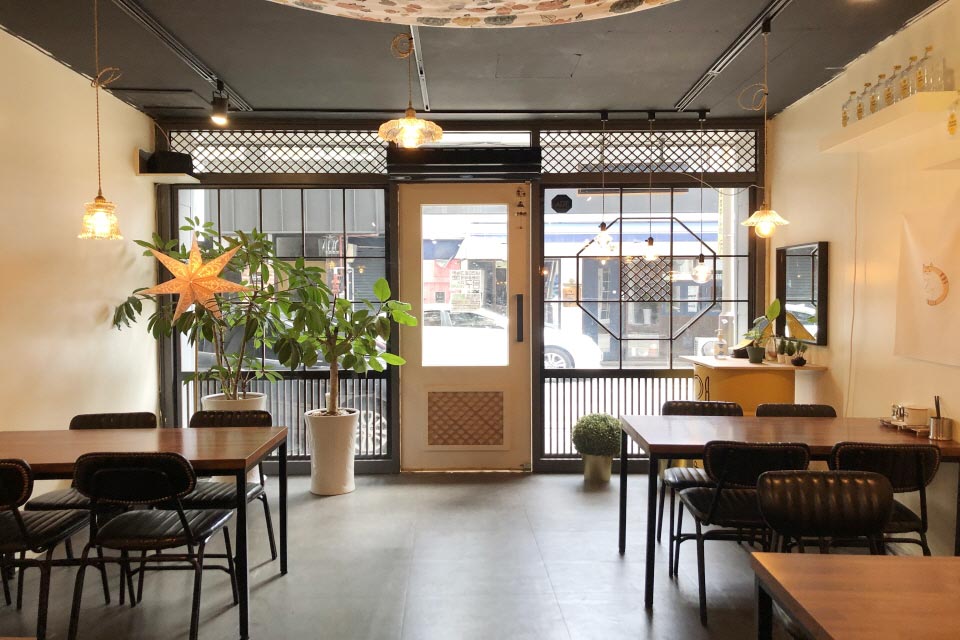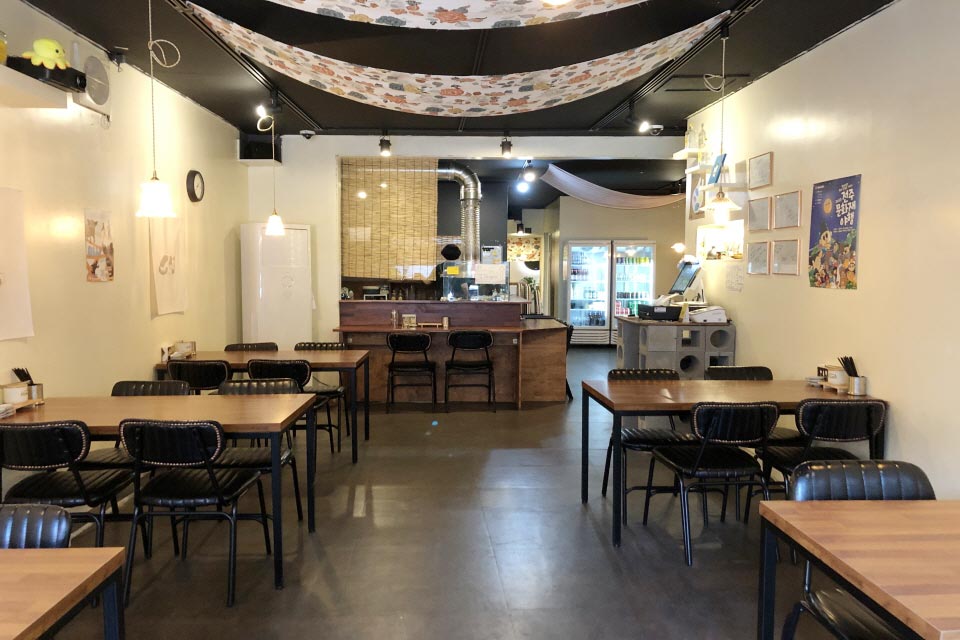 "Cozy Seating and Open Kitchen"
The restaurant's interior has individual seating, allowing for a comfortable solo dining experience. However, bear in mind that being a small place, there might be some wait time during peak hours.
The open-kitchen concept lets you see the entire food preparation process, from the handling of vegetables to cooking, ensuring a clean environment. It's comforting to see everything happening right in front of your eyes.
"Delectable Veggie Dishes"
When the dishes finally arrived, from the crispy mushroom fritters accompanying the Cold Udon to the Spicy Stir-Fried Vegetables over Rice, with soy meat and various veggies, the variety blew us away.
The dishes allow you to adjust the spice levels, catering to individual preferences.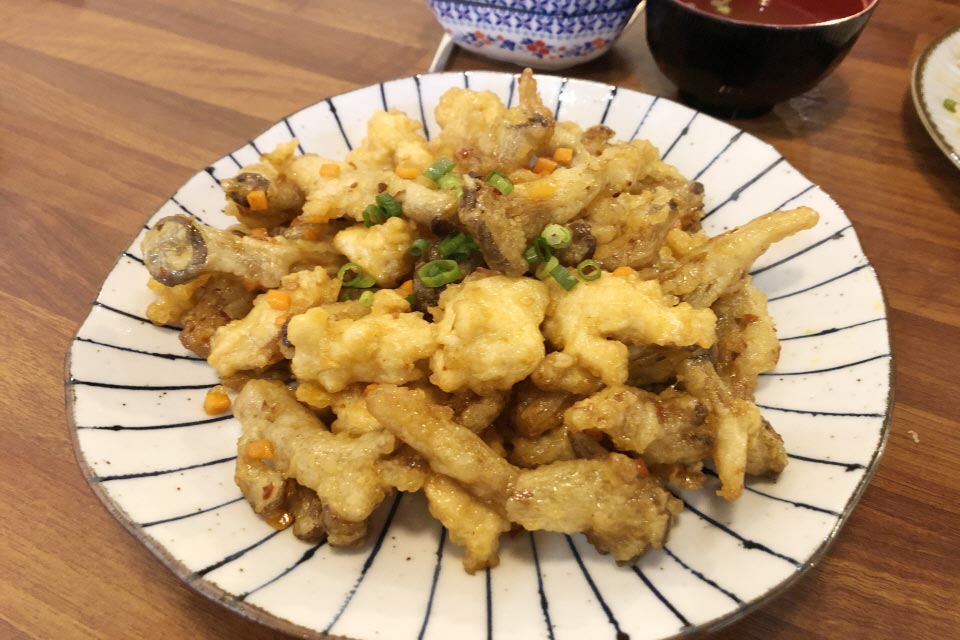 "Healthy and Delicious Cuisine"
The Tofu Mushroom Sweet and Sour, a bit longer in preparation due to the frying process, surprised us with its delightful balance of sweet and spicy flavors. The chewy texture made it incredibly delicious. Perfect for those counting calories and seeking a flavorful meal. It's also a great snack for kids who aren't keen on veggies.
If you're on the lookout for a meal that satisfies your taste buds and nutritional needs or simply want to break free from the usual delivery meals, make sure to drop by POOL, the vegan restaurant in Jeonju!
"Experiencing Vegan Delights at Café Préjong"
After a fulfilling meal at POOL, we headed to a picturesque café named "Préjong", located in Jeonju's Jungwasan-dong. Rumor had it that they offered a unique vegan menu.

Préjong
– Address : 10 Hwasancheonbyeon 1-gil, Wansan-gu, Jeonju, Jeollabuk-do, South Korea
– Parking : No designated parking, street parking available
– Opening Hours : 10:00 AM – 10:00 PM, Closed on Sundays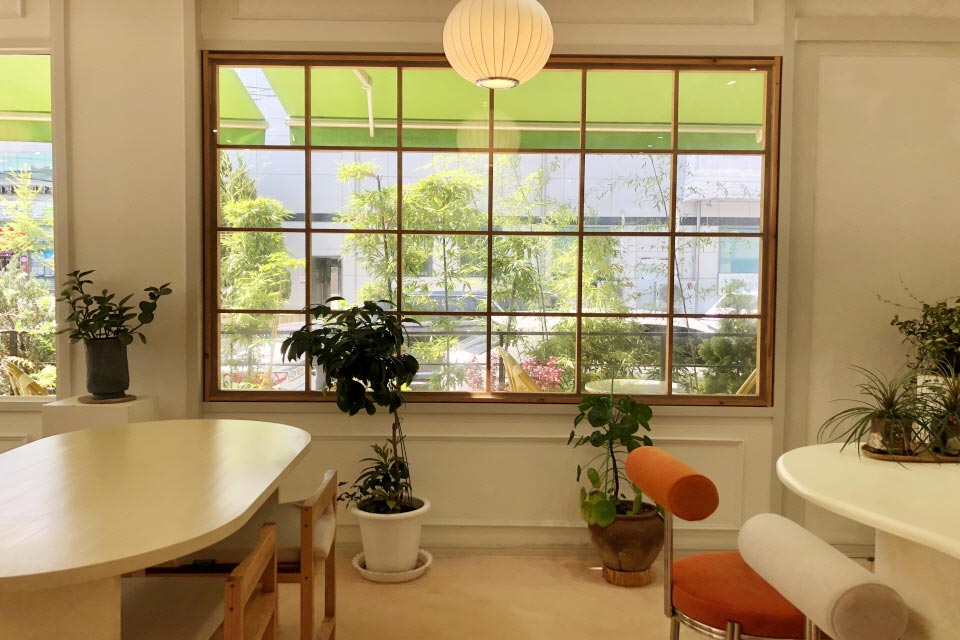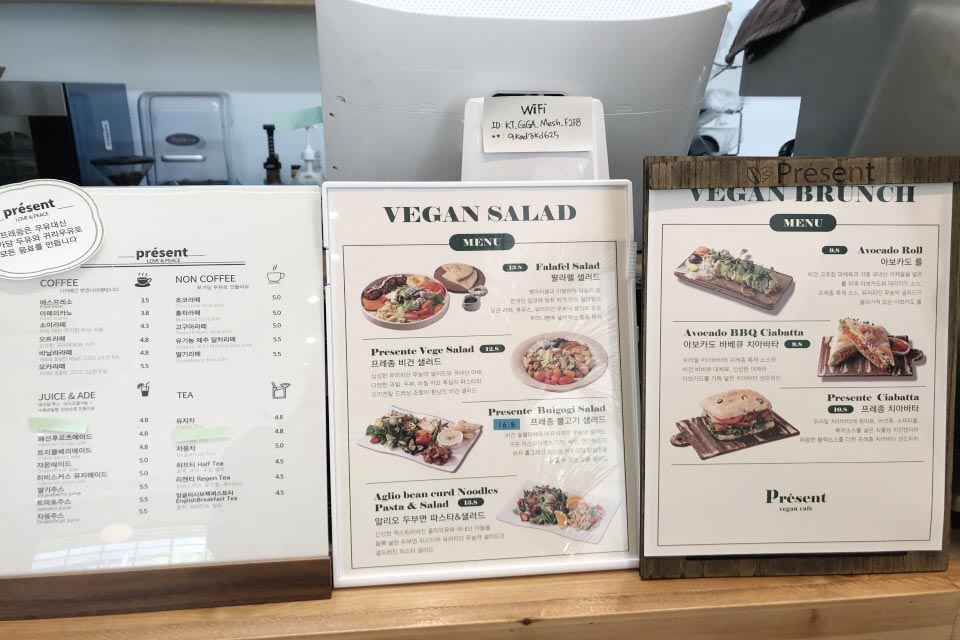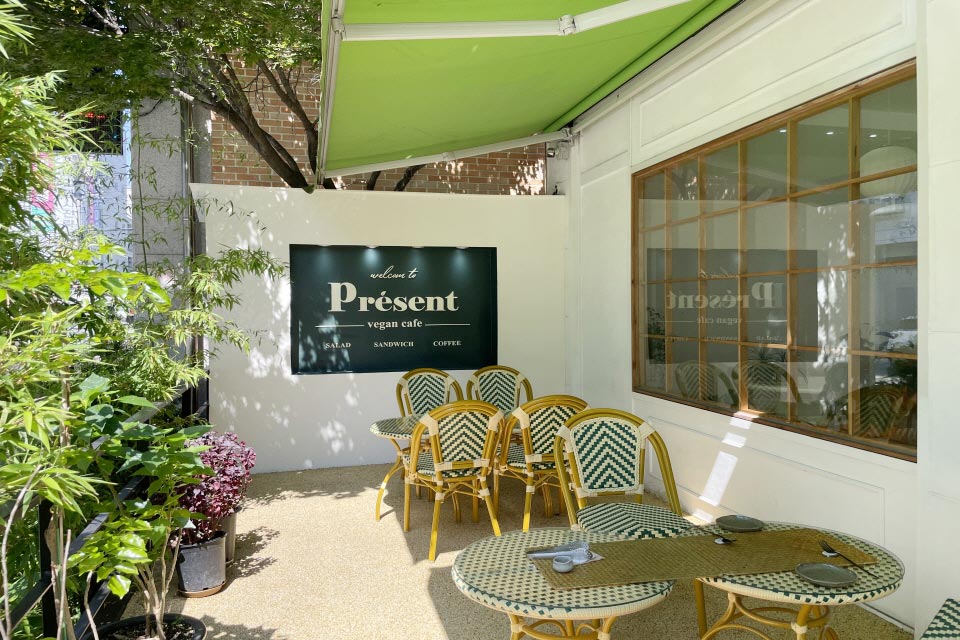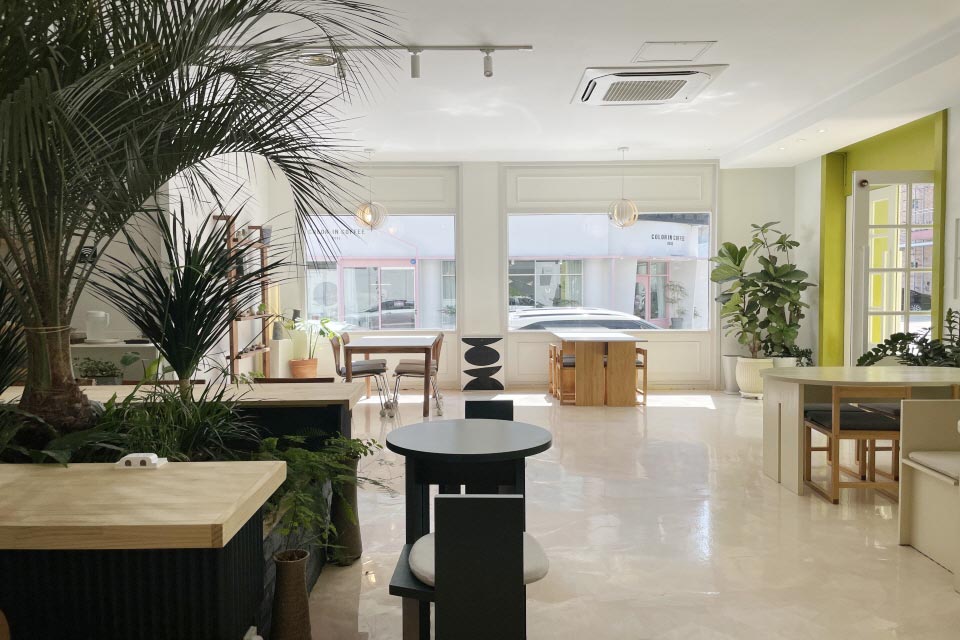 "Outdoor Seating and a Warm Indoor Ambiance"
The weather was just right for an outdoor meal, so we picked a table outside. The café exuded a warm vibe, a blend of Eastern and Western aesthetic elements.
"Handcrafted Dishes and Stunning Presentation"
Before the food arrived, the owner set the table with handmade mats and ceramic dishes, even including unique pottery sets available for purchase at the café. This added a special charm to the dining experience.
And as the saying goes, "presentation is key". The beautifully plated dishes just added to our anticipation.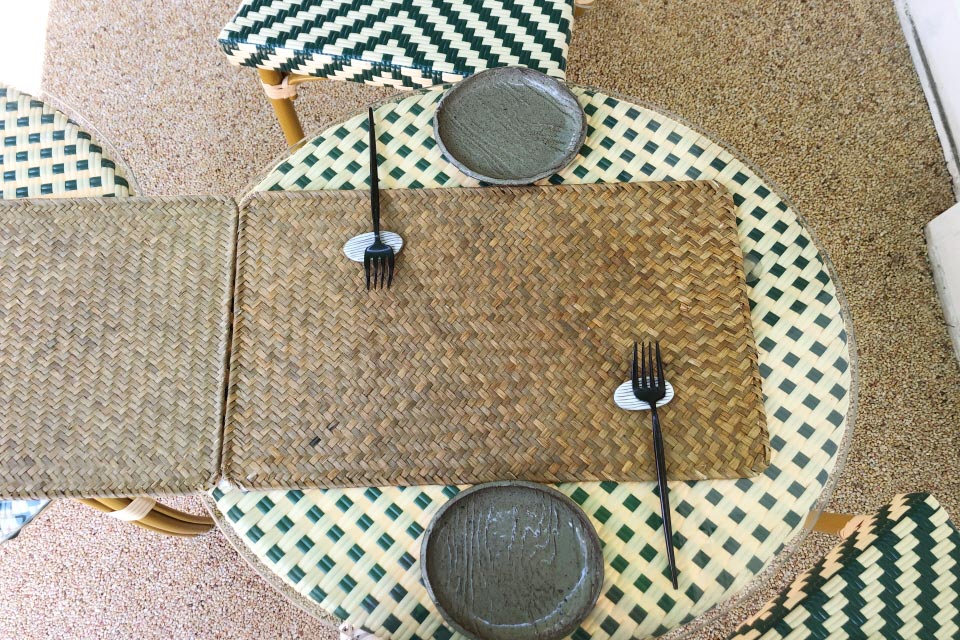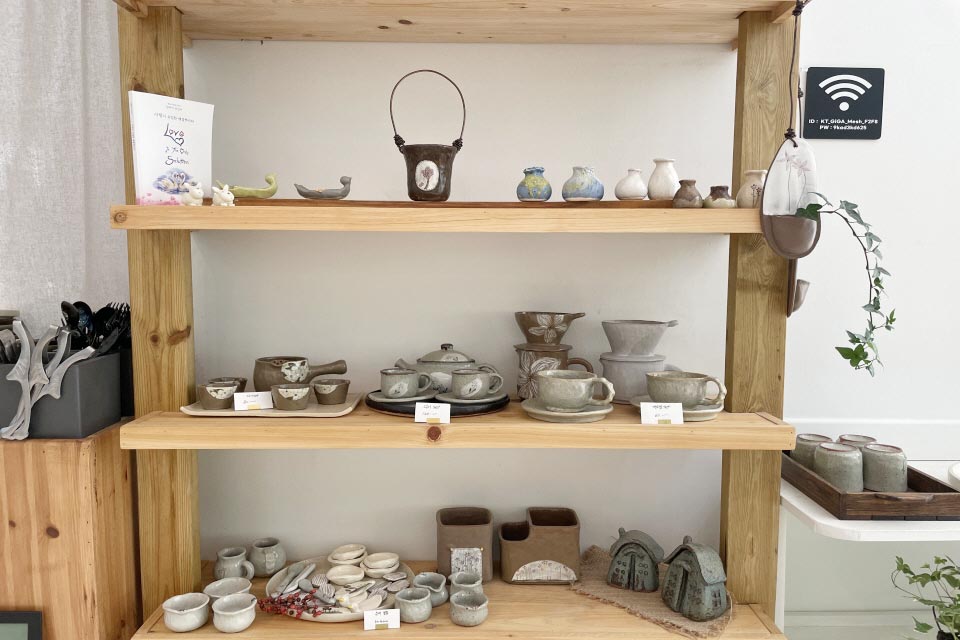 "Vegan Sandwiches That Challenge the Norm"
Then our order arrived. The Ciabatta Sandwich, with a plant-based patty, loads of healthy veggies, and homemade sauces, was not only visually appealing but amazingly tasty too!
If you've ever thought vegan food is bland, I highly recommend a visit to Préjong in Jeonju and give their vegan menu a try. You'll surely change your mind.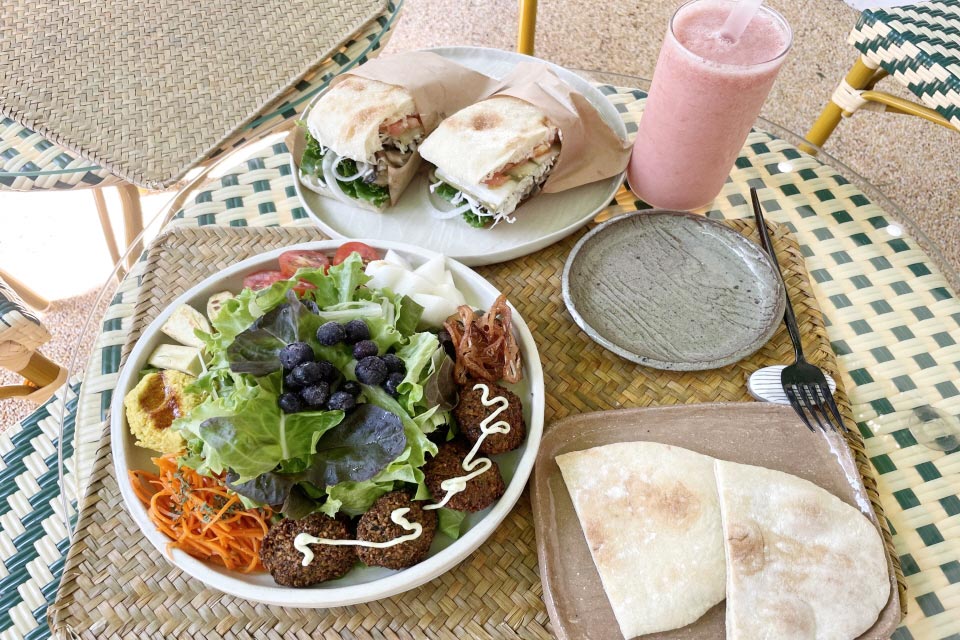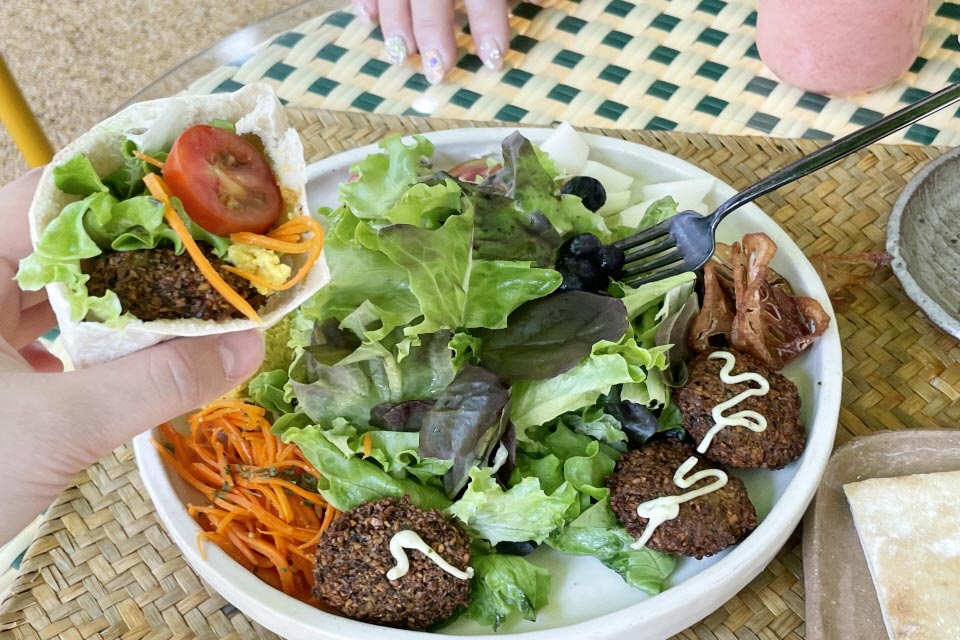 "Nutrient-Rich Pocket Salad"
The Pocket Salad, filled with a healthy assortment of pesticide-free vegetables and fruits, was served with Middle Eastern-style pocket bread. The bread, akin to Korean flatbread, was hollow, letting us stuff it with the salad, ensuring a balanced nutrient intake.
The bread added a fun element to the meal, and when combined with the healthy dishes, it felt less taxing for those on a diet, offering a filling meal without feeling heavy.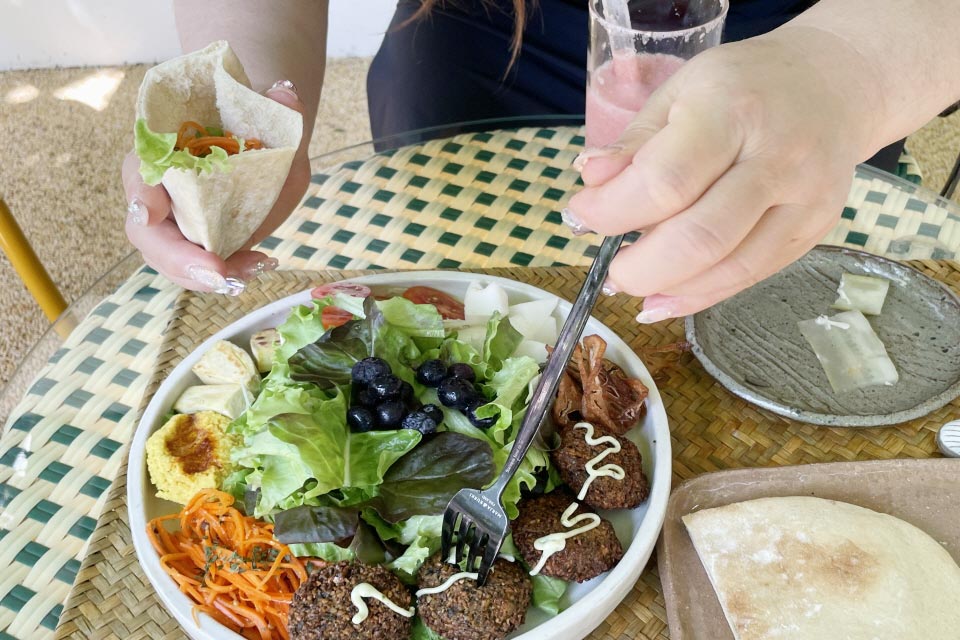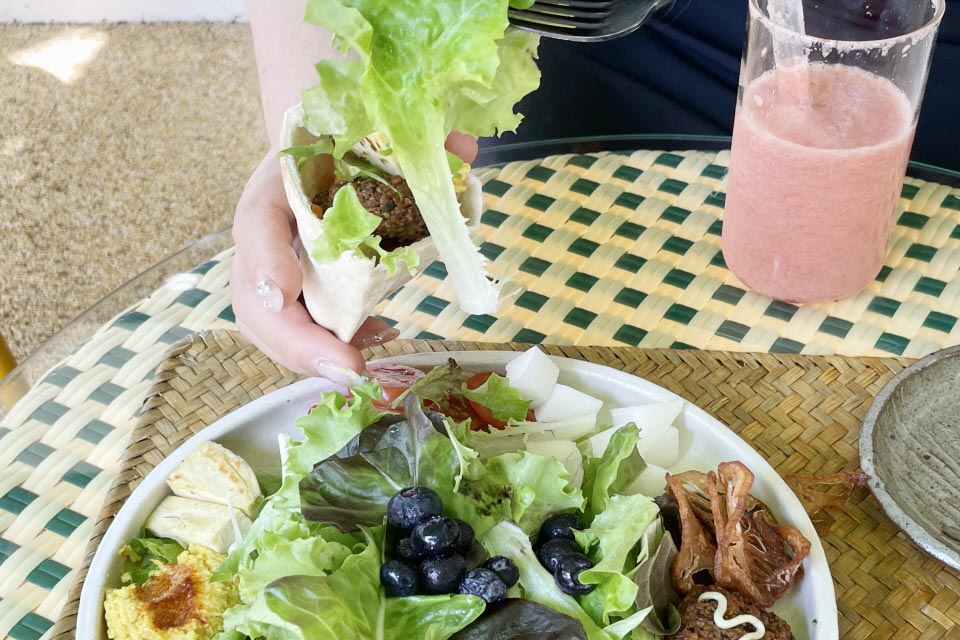 If you're looking for a place in Jeonju where you can prioritize your health without compromising on flavor, make sure to visit the vegan restaurant POOL and café Préjong. I promise, you'll discover the delightful world of vegan cuisine.
🥦
The post 🥕 Feasting on Green: Jeonju's Rising Vegan Restaurant and Café Scene ☕ appeared first on Jeonju City Blog.