The sky's been a flawless blue, the perfect canvas for a two-day escape to Jeonju.
I took a plunge into history, scouting around the major landmarks of Jeonju. This was not your typical leisurely stroll, though! Can you guess where I landed? Pungnammun – aka Honam's First Castle, the lone survivor of Jeonju Castle's four majestic Great Gates.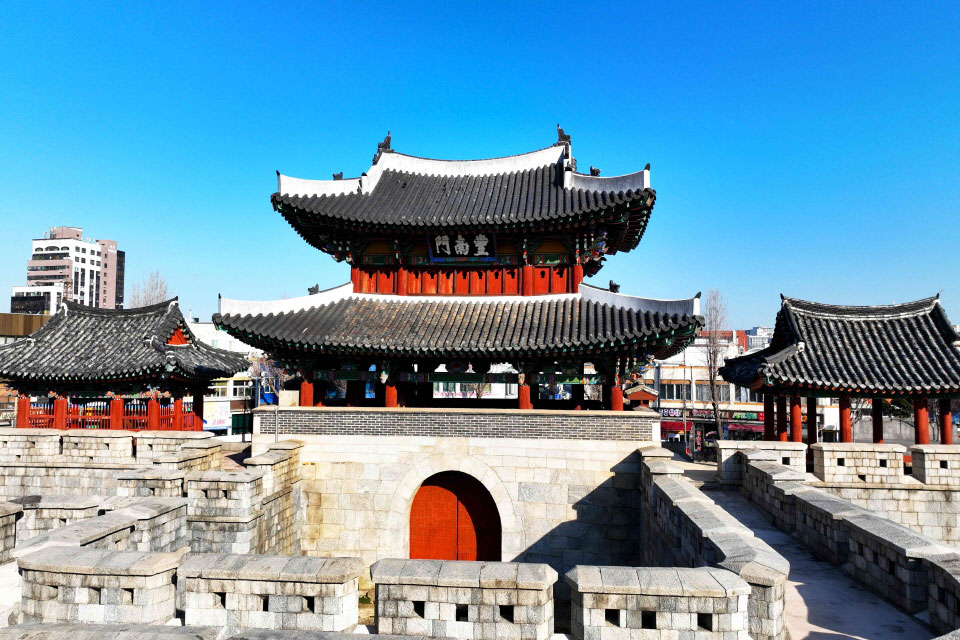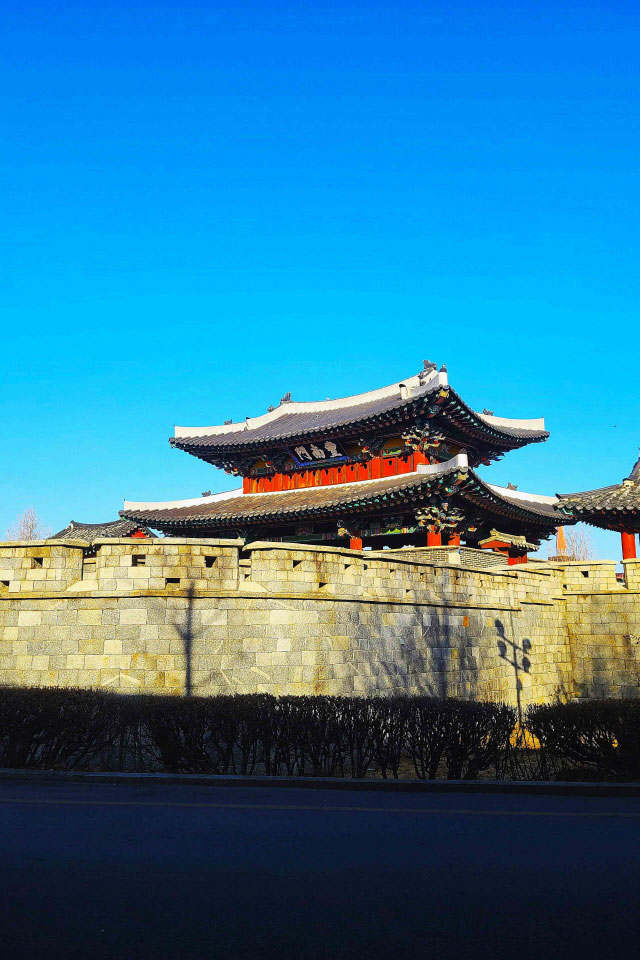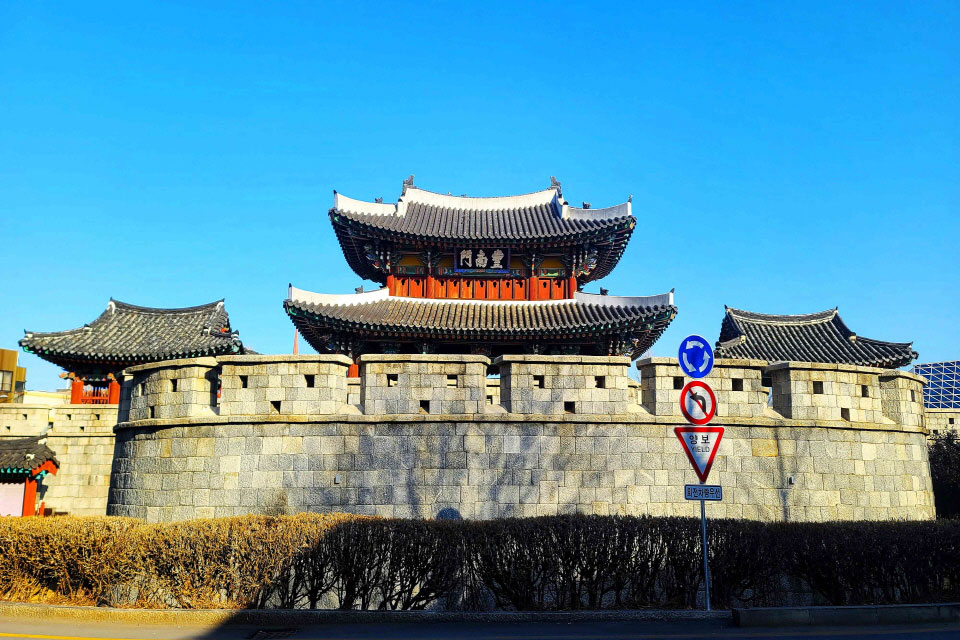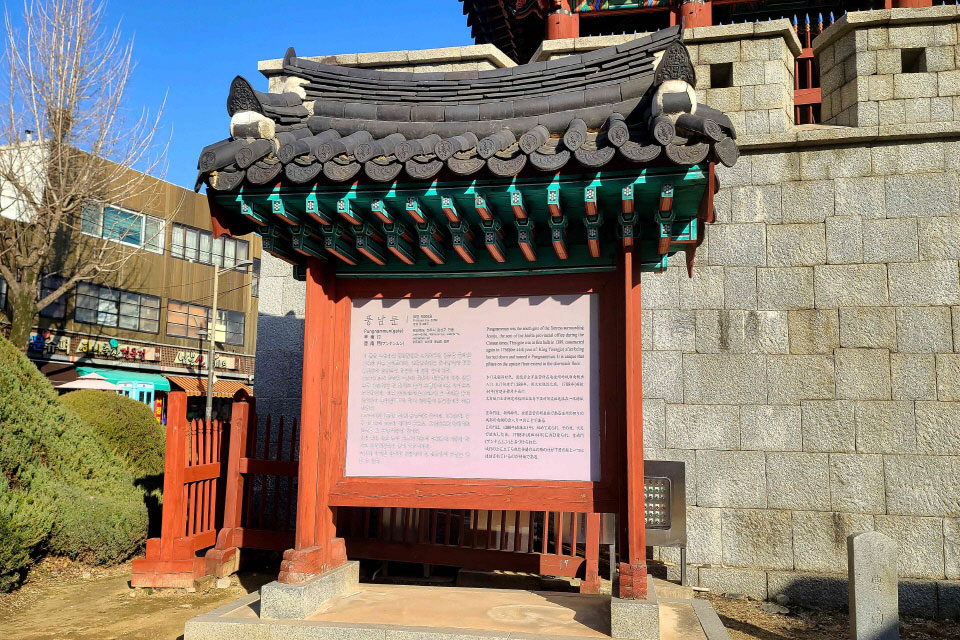 "Pungnammun – Jeonju Castle's
Last Gate Standing"
For all my friends not from Jeonju, you might be scratching your heads about Pungnammun. Let me spill the beans!
▶ Pungnammun (Honam's First Castle)
Location: Pungnammun 3-gil 1, Wansan-gu, Jeonju, Jeollabuk-do
Open: All year round (Come rain or shine!)
Parking: None (Paid parking available at Southern Market)
Hotline: 063-287-6008
Nestled a stone's throw away from Jeonju Hanok Village, Pungnammun is the south gate of Jeonju Castle, the last gate standing. Declared as Treasure No. 308 in January 1963, this gate has been rebuilt and restored over time, the last restoration by the governor Hong Nakin post a fire disaster. That's when it got christened 'Pungnammun', meaning the resilient southern gate of Jeonju.
Pungnammun, as we see today, rose from the ashes over a period of three years starting 1978 after getting severely mauled during the Japanese colonial period. Years have passed and storms have raged, but Pungnammun remains unshaken, standing tall and magnificent, an embodiment of nobility.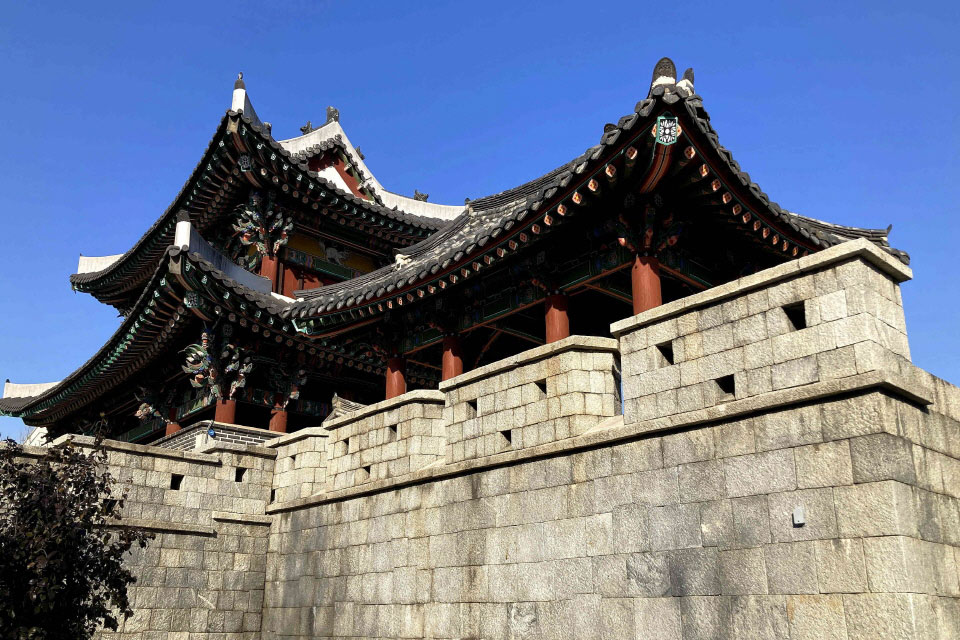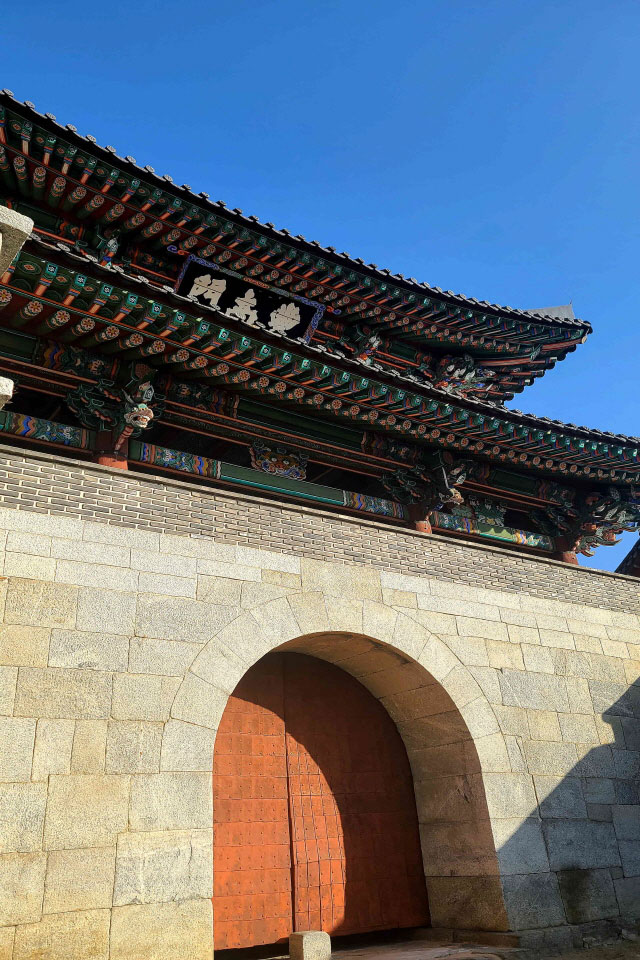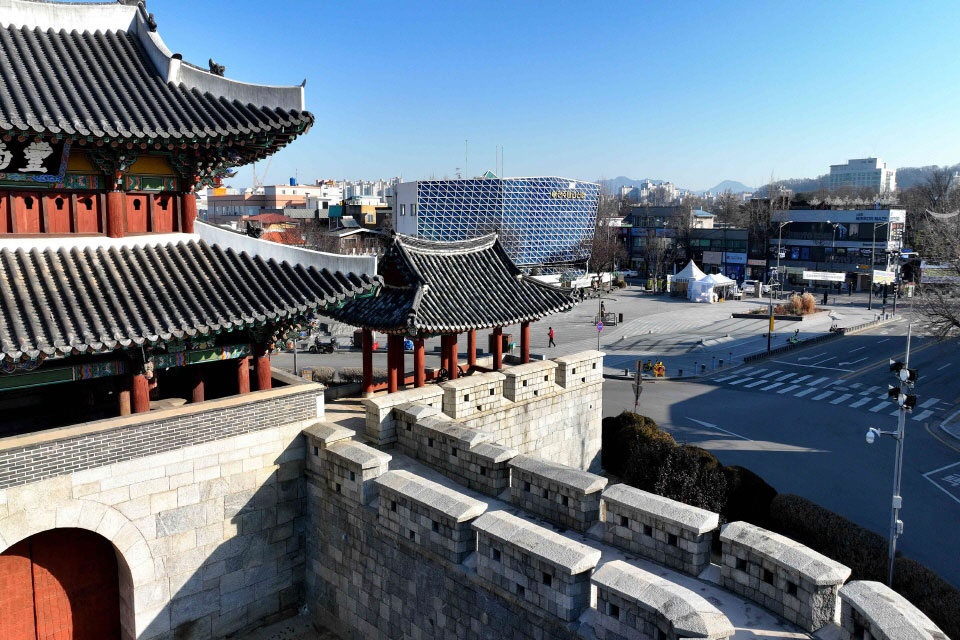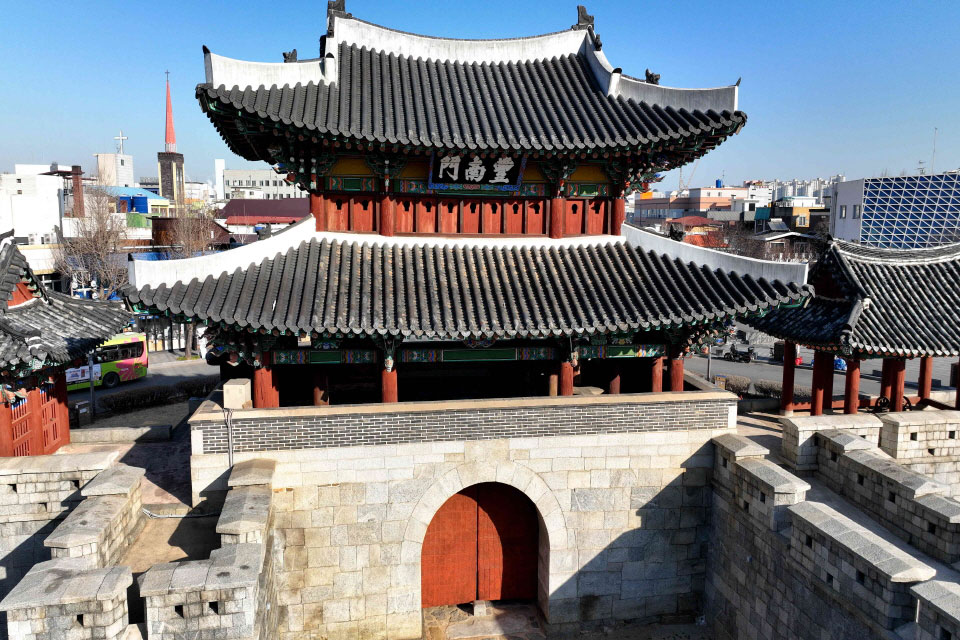 "Pungnammun's "Strike Bell"
– From Dawn to Dusk "
Inside Pungnammun, you'll find a 'Jongru', a bell tower. Traditionally, from the Goryeo Dynasty era, these bells in Jeonju Castle's gates rang in the daybreak and dusk. However, the Japanese colonizers confiscated the bell.
The bell made a comeback in 1980, and the current one is named 'Wansan Bell', tipping a hat to Jeonju's ancient name. Since it was rung at the National Sports Festival in Jeonju, it chimes during all major events in Jeonju.
Every New Year's Eve, Pungnammun would host the bell-ringing ceremony. But a few years back, we discovered that the bell tower's pillars were twisted and the front wall was bulging, hence the ceremony has been paused due to ongoing restoration work.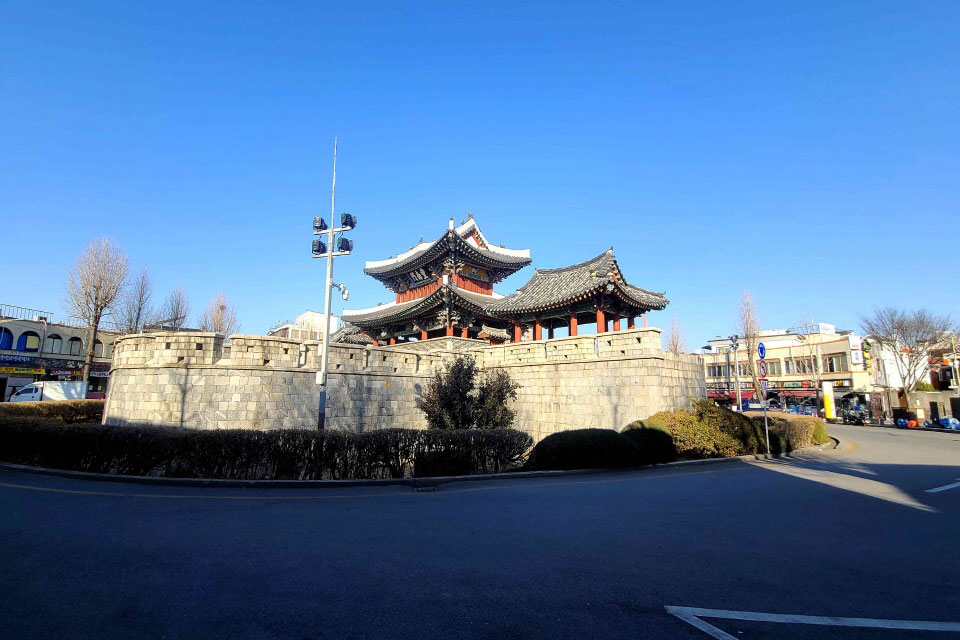 "Pungnammun,
Jeonju's Picture-Perfect Sightseeing Stop "
Pungnammun is a staple on the Jeonju sightseeing route, alongside Jeonju Hanok Village. Jeonju's culinary crown might rest on Bibimbap, but when it comes to landmarks, Pungnammun steals the show!
Join me for a bird's eye view of Pungnammun, captured from my trusty drone. I've shot from various angles for a comprehensive view. Once I knew Pungnammun's backstory and saw it up close, I found myself wishing I could see it in its original form, as it was during the Joseon Dynasty.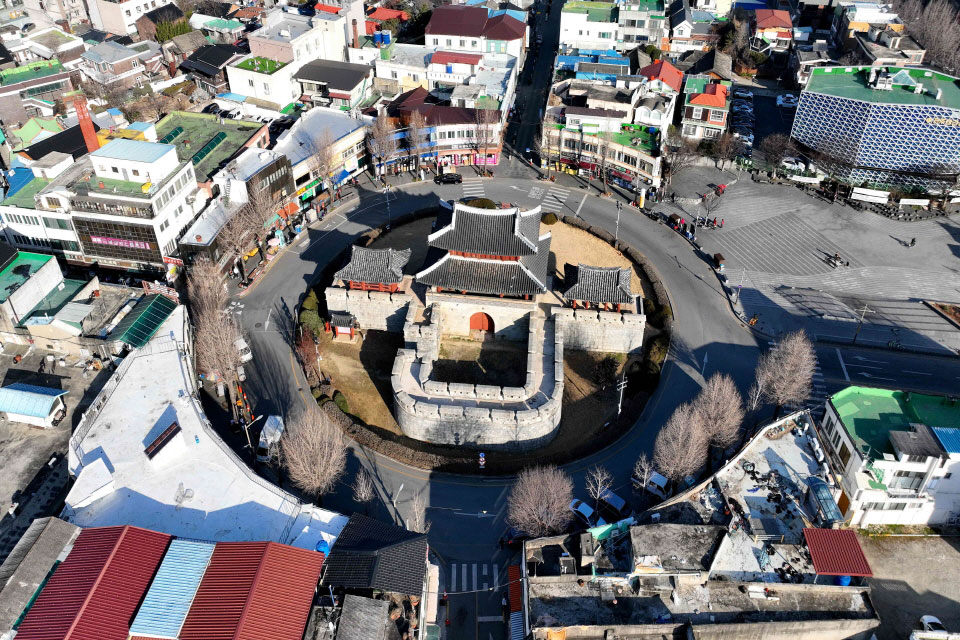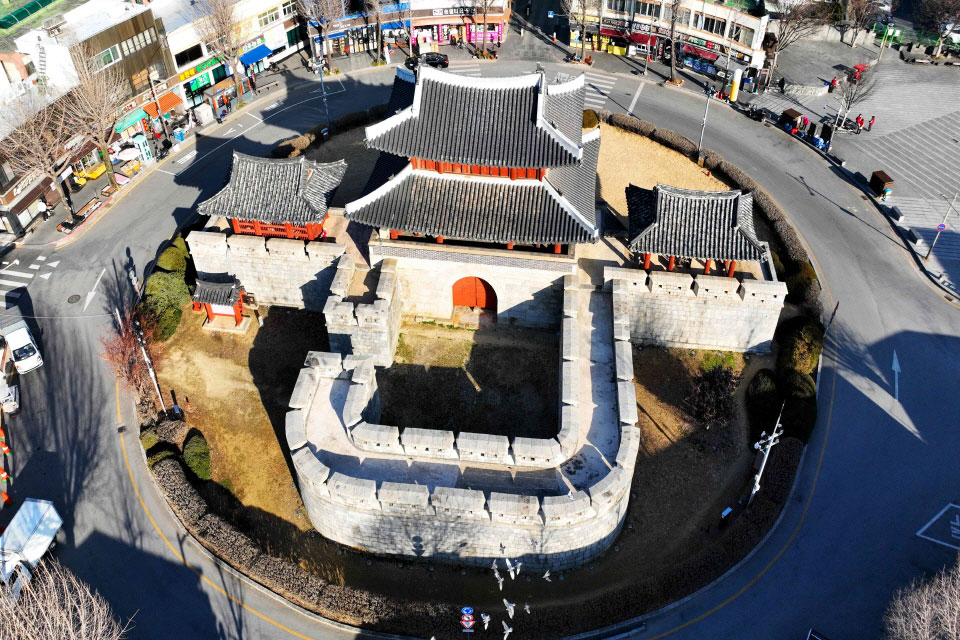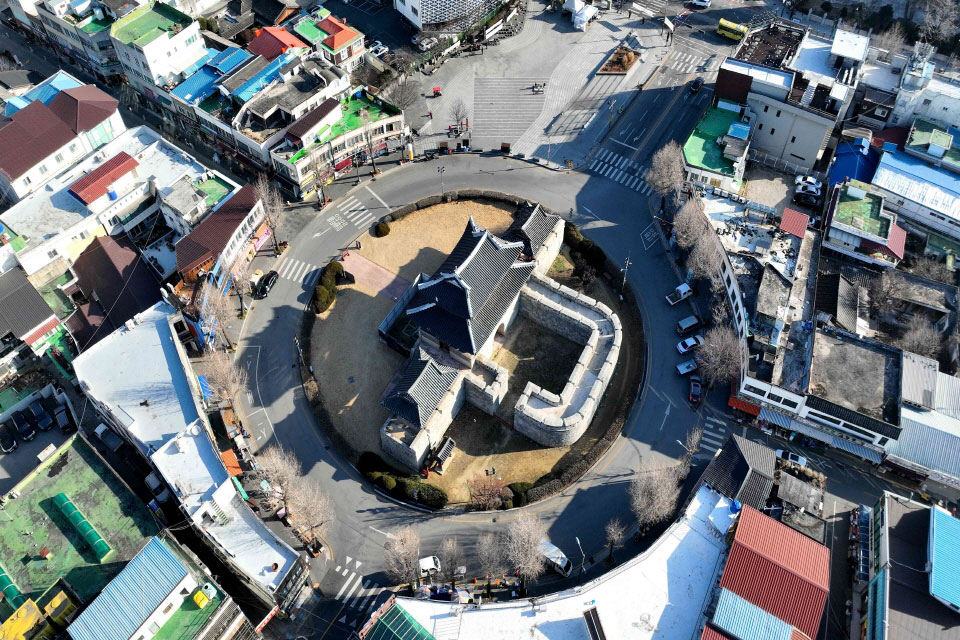 "A Stunning Blend
of the Past and Present"
From up in the air, you'll see a roundabout tracing the castle's perimeter. The harmony between the old monument and the modern surroundings is captivating, a testament to the co-existence of the past and the present.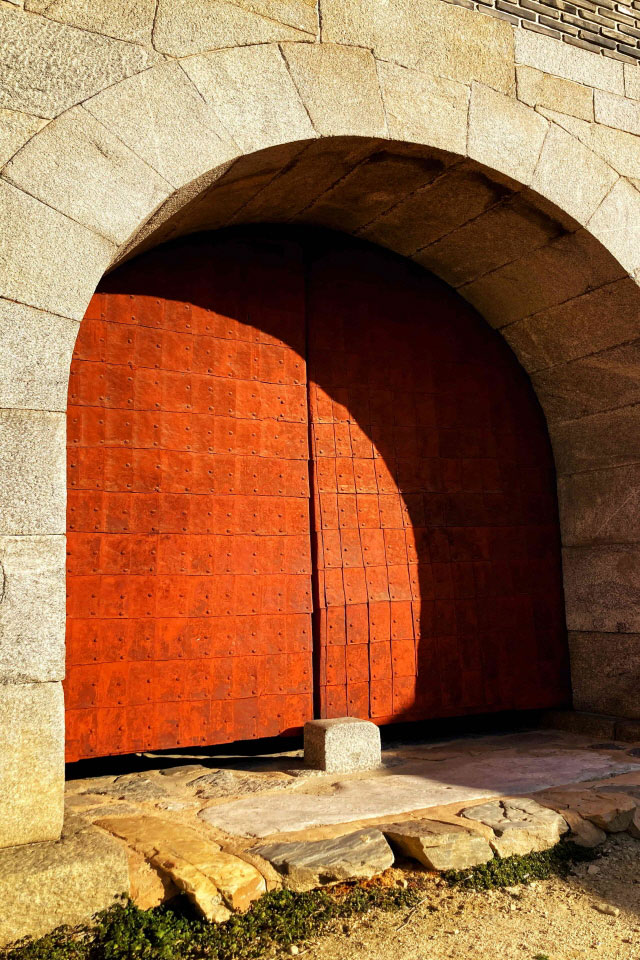 Although entry is barred now, here's the arch-shaped main gate leading to Pungnammun. The structure's grandeur is matched by its maintenance, making it a pleasant spot for a leisurely stroll.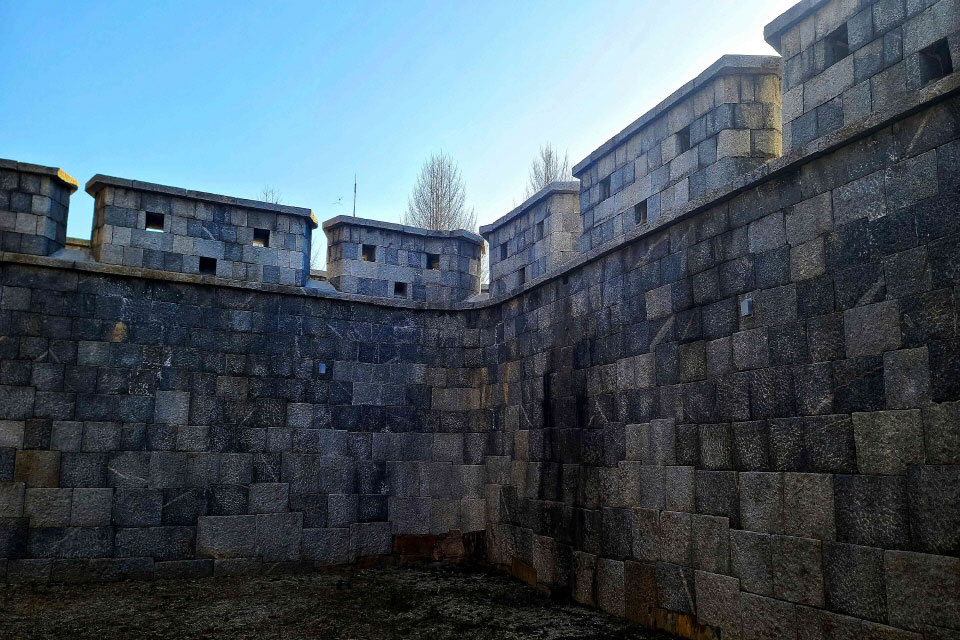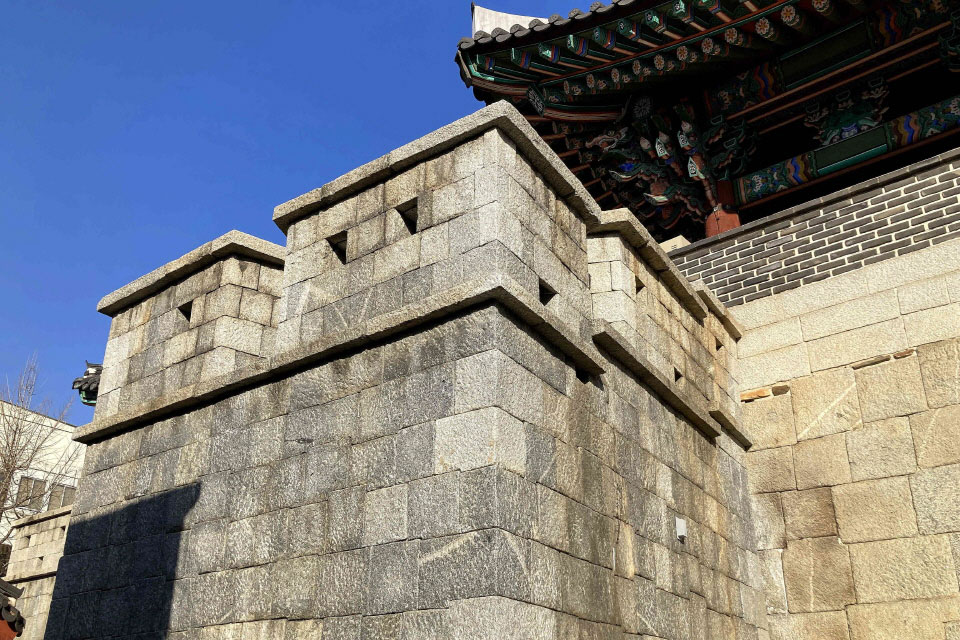 "Sturdy Castle Walls,
A Testament to History"
Step inside, and you're greeted by incredibly solid walls built from stacked stones. I could almost feel the effort our ancestors must have poured into erecting this castle. Despite the strong sense of respect for their hard work, it's hard to shake off the sadness about the damage this historical marvel has sustained.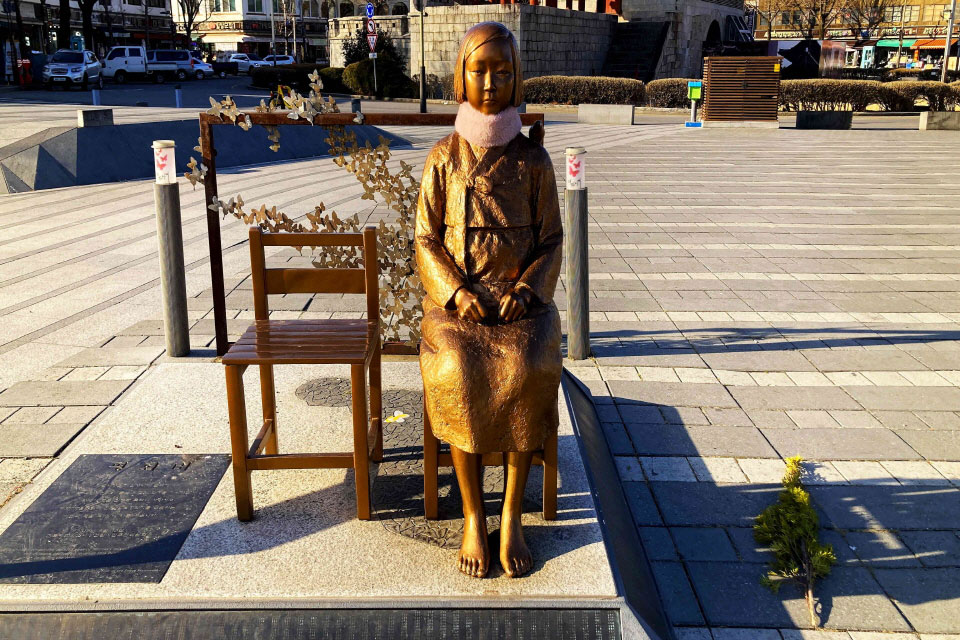 Wrapping up my exploration, I spotted the Statue of Peace in the square in front of Pungnammun. A thoughtful soul had gently draped a scarf around the girl's neck, a poignant symbol that tugged at my heartstrings.
That's it, folks! A whirlwind tour around Pungnammun, steeped in history and captured from various perspectives. If you're headed to Jeonju on a clear day, don't forget to drop by Pungnammun. Breathe in the air of history and soak in the spellbinding scenery. It's worth every moment!

️
Jeonju's Pungnammun
1 Pungnammun 3-gil, Wansan-gu, Jeonju-si, Jeollabuk-do, South Korea
The post "Last Gate Standing: A Drone's Eye View of Jeonju's Immortal Pungnammun 🏯" appeared first on Jeonju City Blog.