When the biting cold Siberian wind starts hitting face, you know it's time for some warm soups. Today, I'll introduce two soup places in Jeonju that are just right for the cold winter days. Both are very popular that sometimes people who try to enter form lines outside the venues.
Well-Being Saeal Patjuk (red bean and rice porridge)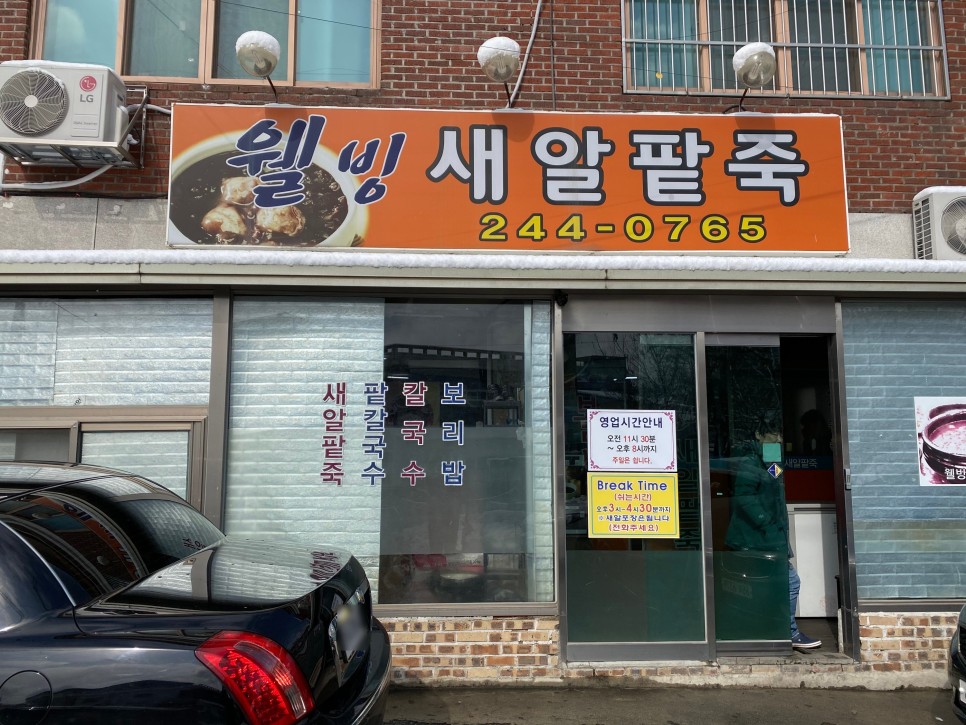 The first venue is Well-Being Saeal Patjuk. The venue specializes in patjuk (red bean and rice porridge) and pat kalguksu (handmade knife-cut noodle in red bean porridge). Since this venue is very popular, I recommend visiting right after the opening or before the break.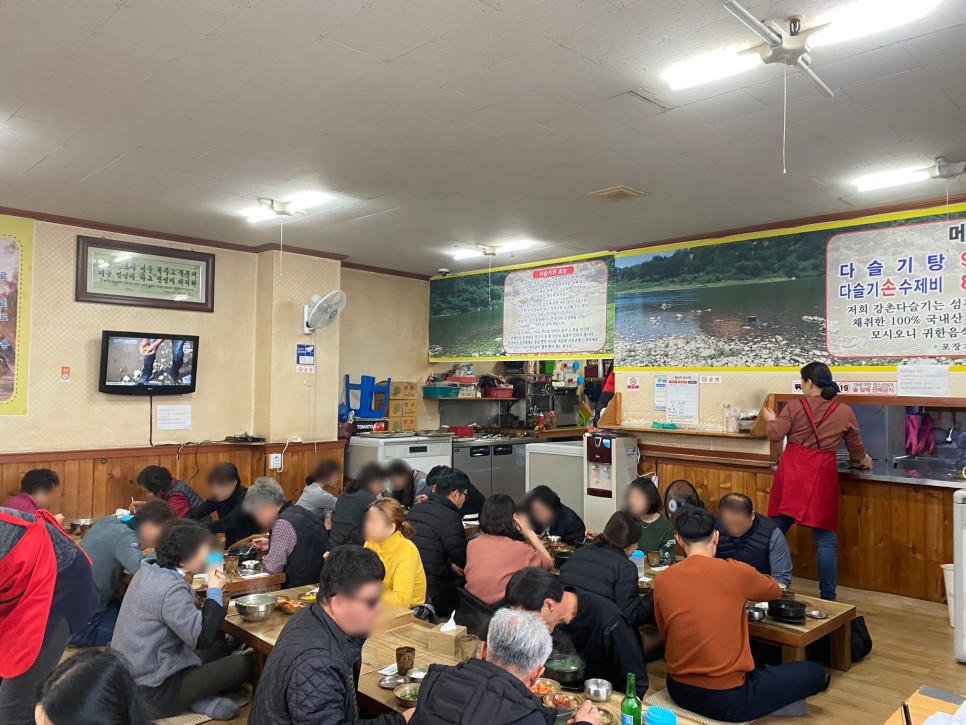 Koreans have celebrated the Dongji (the winter solstice) day with eating patjuk. It's said that one grows a year older by eating patjuk on the Dongji day. Also, the red bean inside patjuk is believed to expel bad spirits. Scientifically, the red bean alleviates swelling and curbs high blood pressure.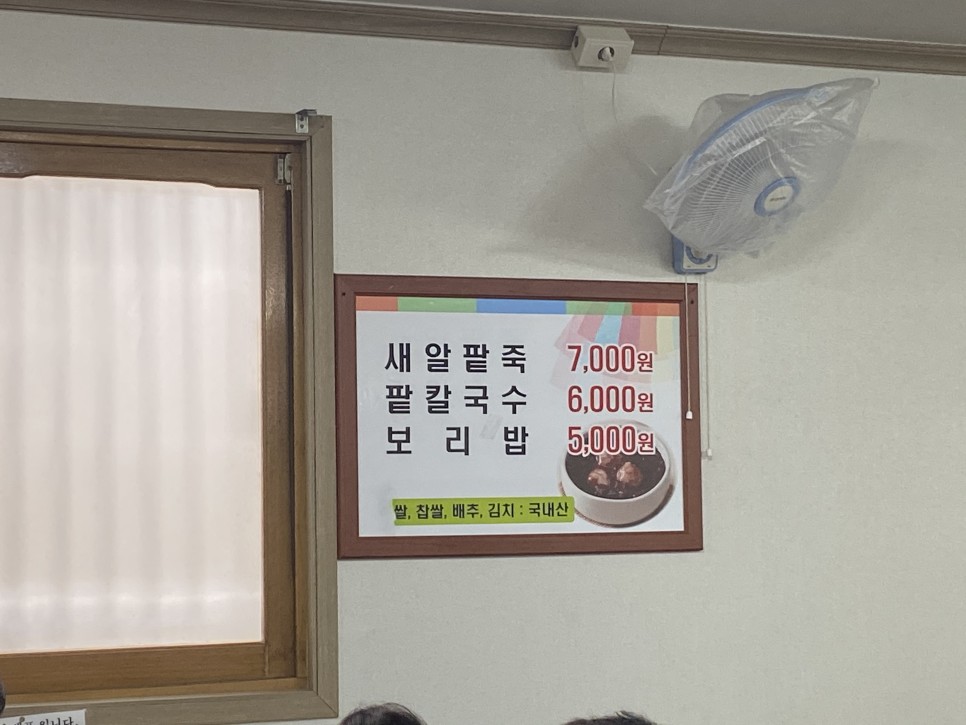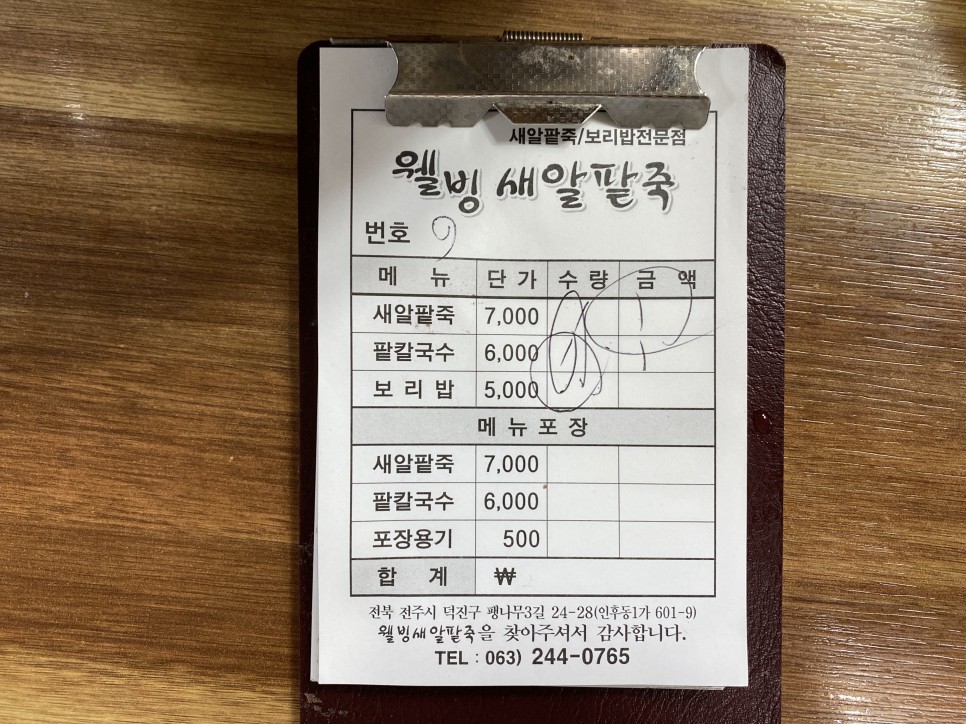 The menu is simple: saeal (small rice cake balls made of glutinous rice flour) patjuk, pat kalguksu, and boribap (barley rice topped with various salads). Surprisingly, if everyone on the table orders one menu per person, free boribap is served. If you order boribap, it's served with siraegi doenjangguk (Korean soybean paste soup with radish stem and leaves).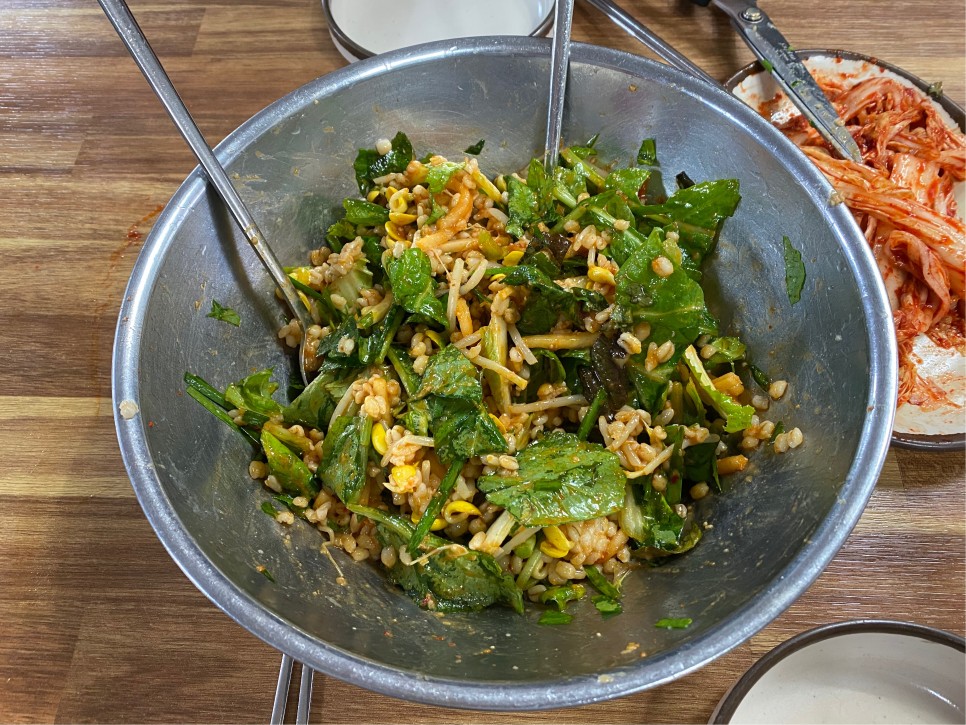 I ordered patjuk and patkalguksu. The side dishes are Chinese cabbage kimchi and radish kimchi. The free boribap is also served. It was rather big portion and I loved its texture.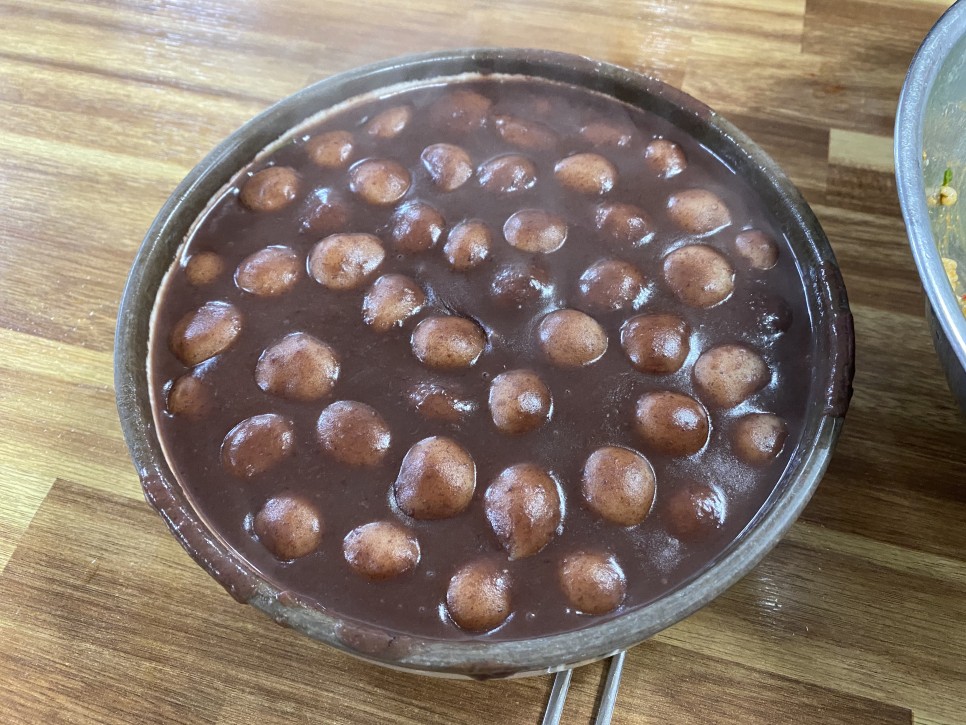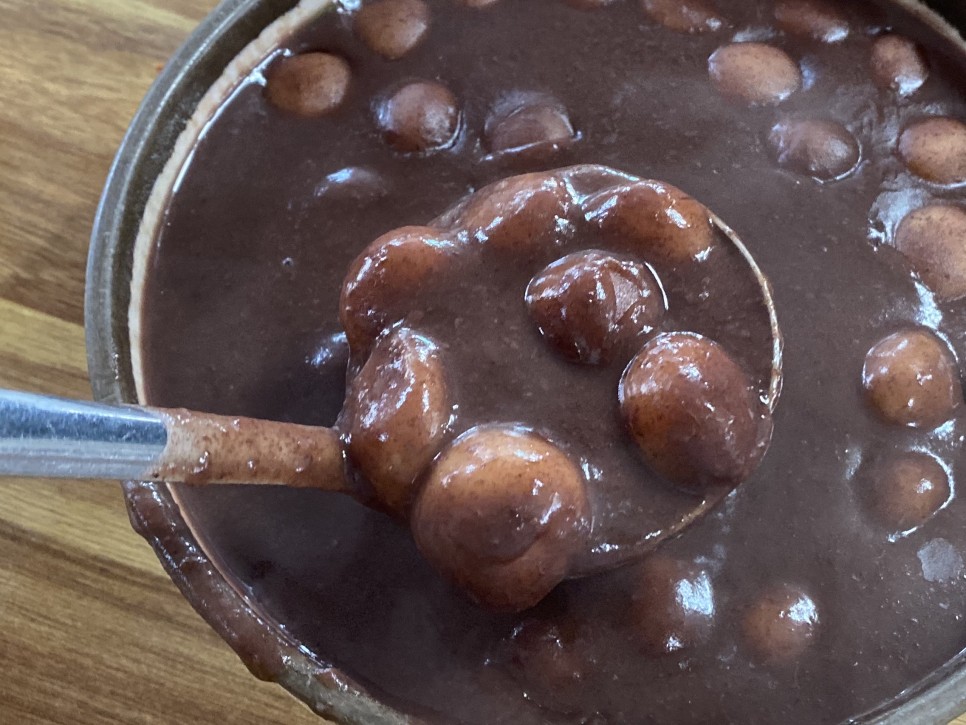 When I was about to finish boribap, the rest of the order arrived. The patjuk has good amount of saeal. I loved the thick and silky texture of the porridge. Also the patjuk was adequately sweet even without adding an extra spoon of sugar.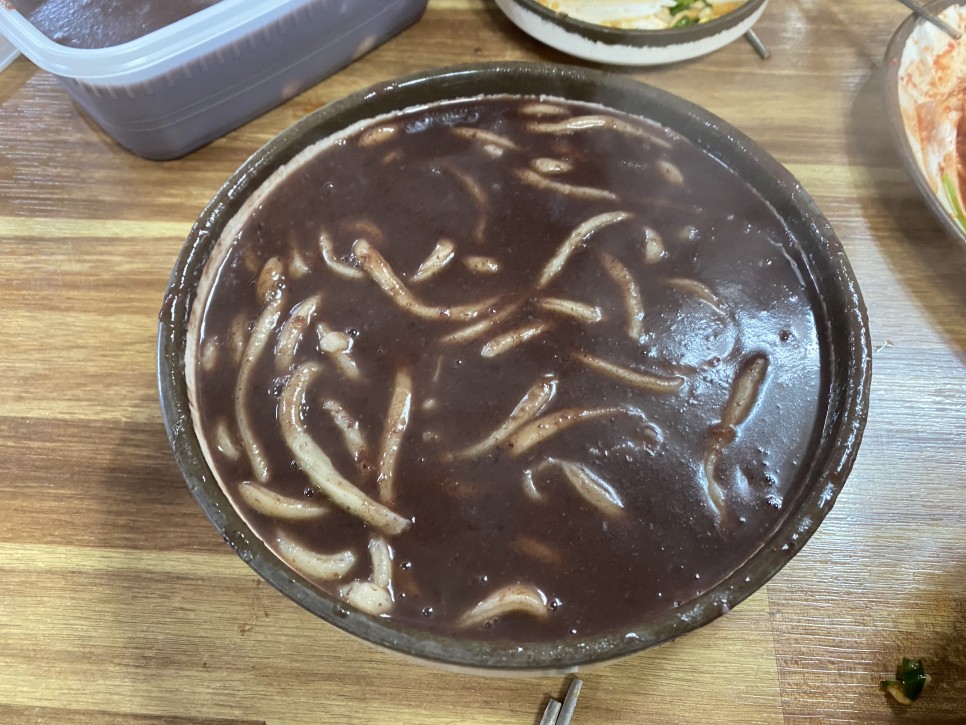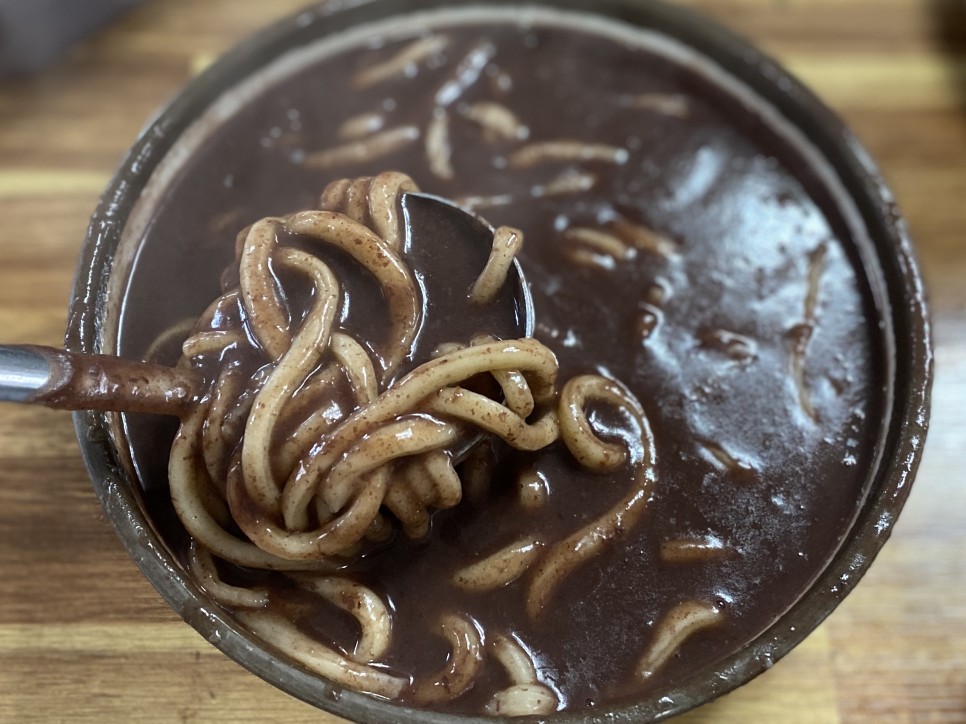 Pat kalguksu has the same porridge base as patjuk, but with the kalguksu noodle inside instead of the saeal.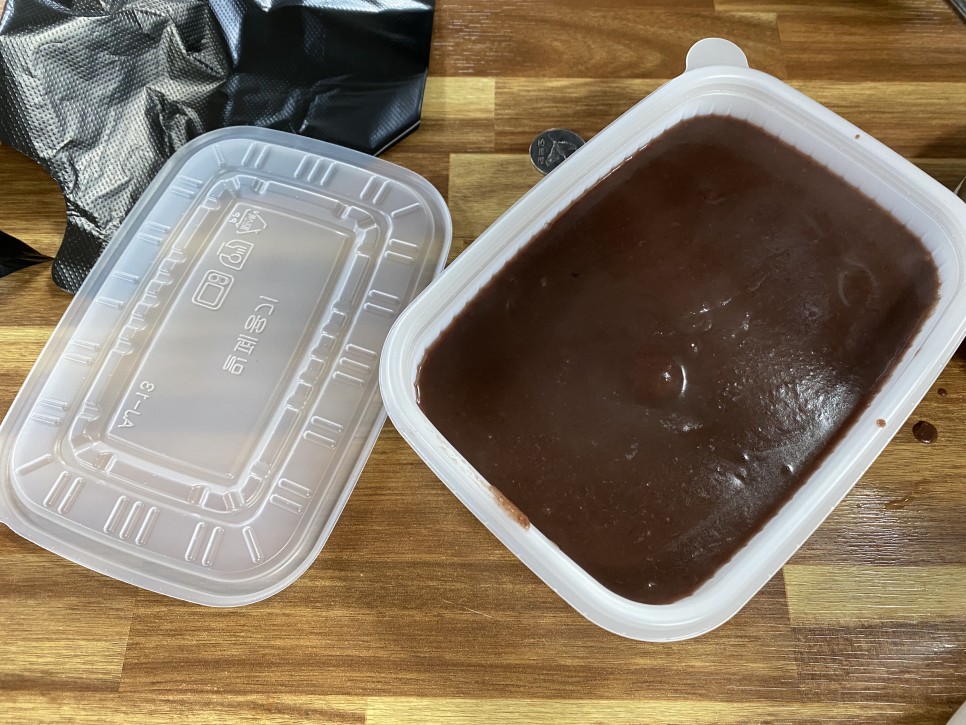 I really liked that the visitors can freely take home the leftover food in the container (500 won). The visitors can use their own container too. Both the free boribap and the patjuk/pat kalguksu are quite big portions, so the container is very convenient.
​Well-Being Saeal Patjuk
Address: Paengnamu 3gil 24-28, Deokjingu, Jeonju
Contact: 063-244-0765
Opening time: every day 11:30-20:00 (break 15:00-16:30)
Gangchon Daseulgi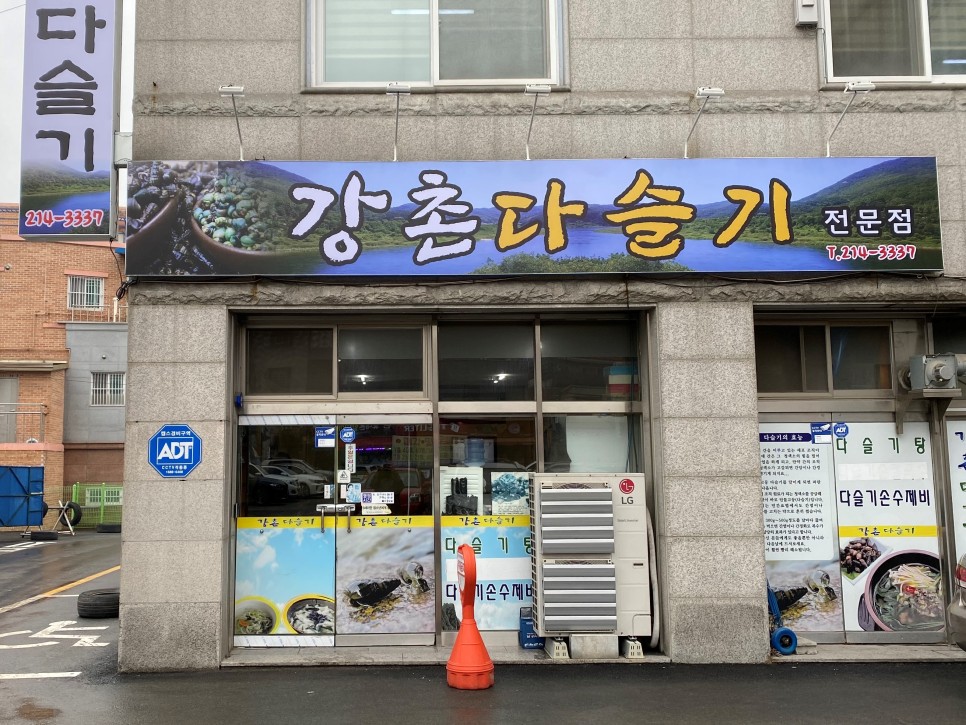 The second place is Gangchon Daseulgi (marsh snail). I visited early, because this venue is also very popular during lunchtime.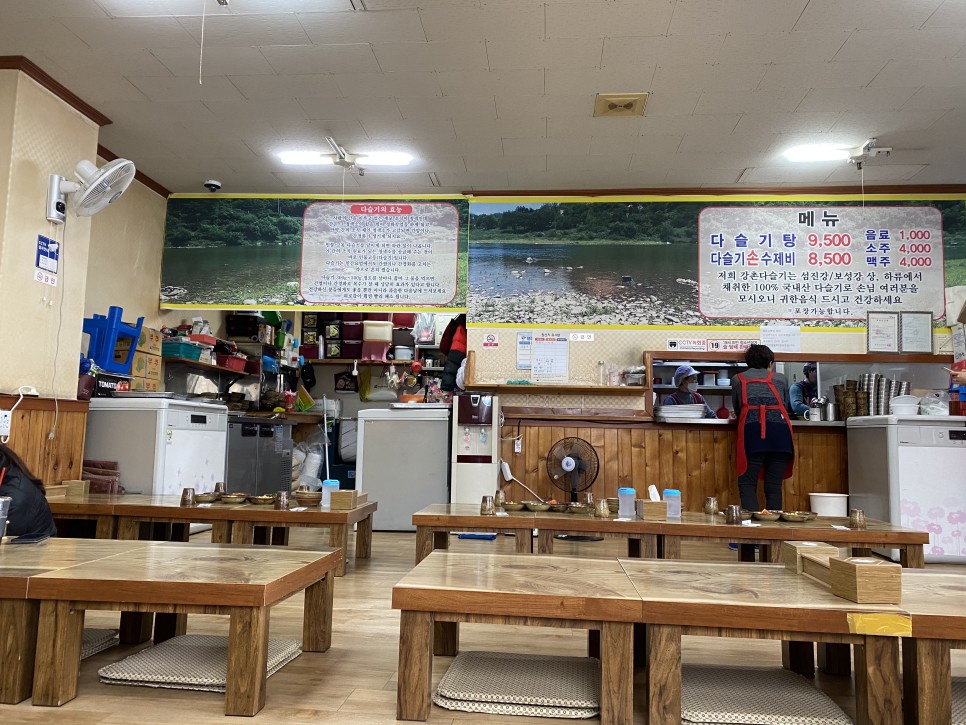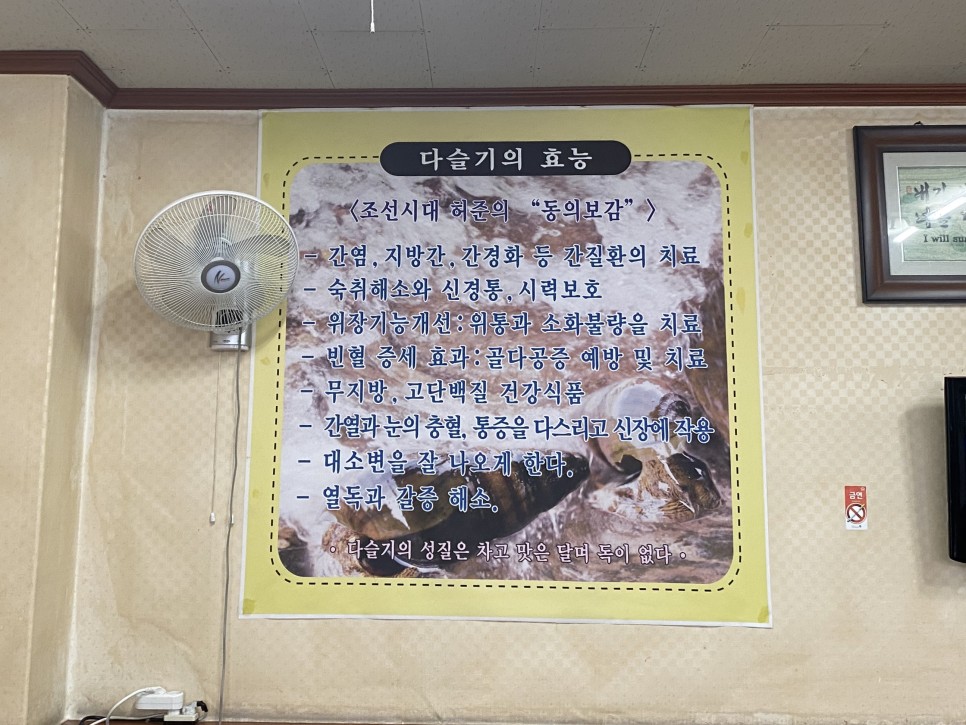 On the wall, the health benefits of daseulgi are written. Daseulgi is known to protect liver, but also good for stomachache, indigestion, and anemia.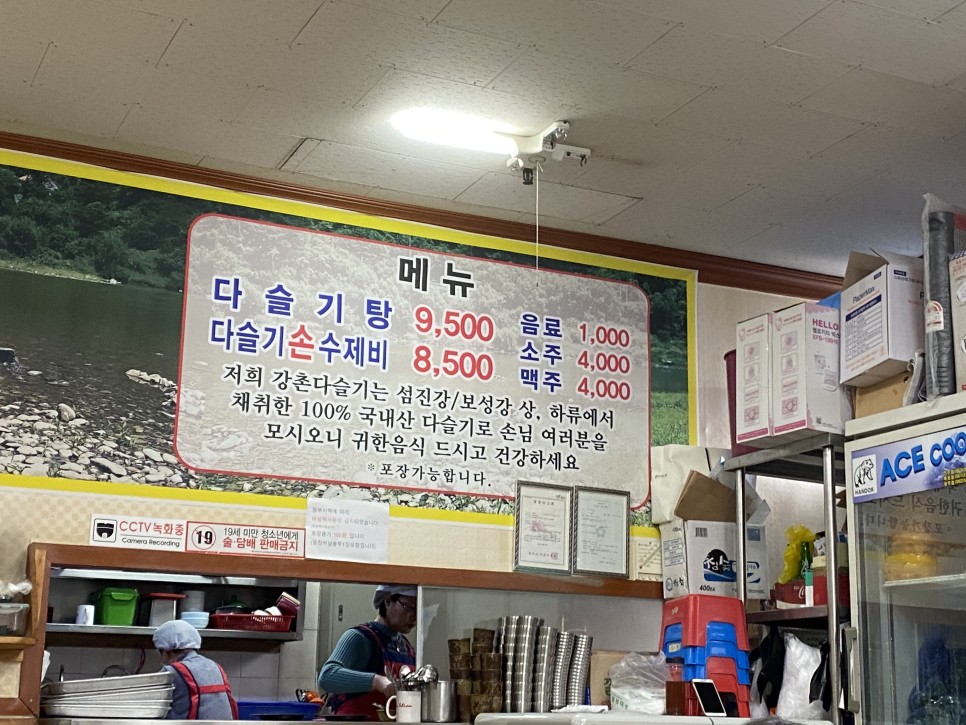 This venue also has simple menu: Daseulgi-tang (marsh snail soup) and Daseulgi Son-sujebi (marsh snail hand-pulled dough flake soup with vegetables). The venue uses only Korean daseulgi rather than imported ones.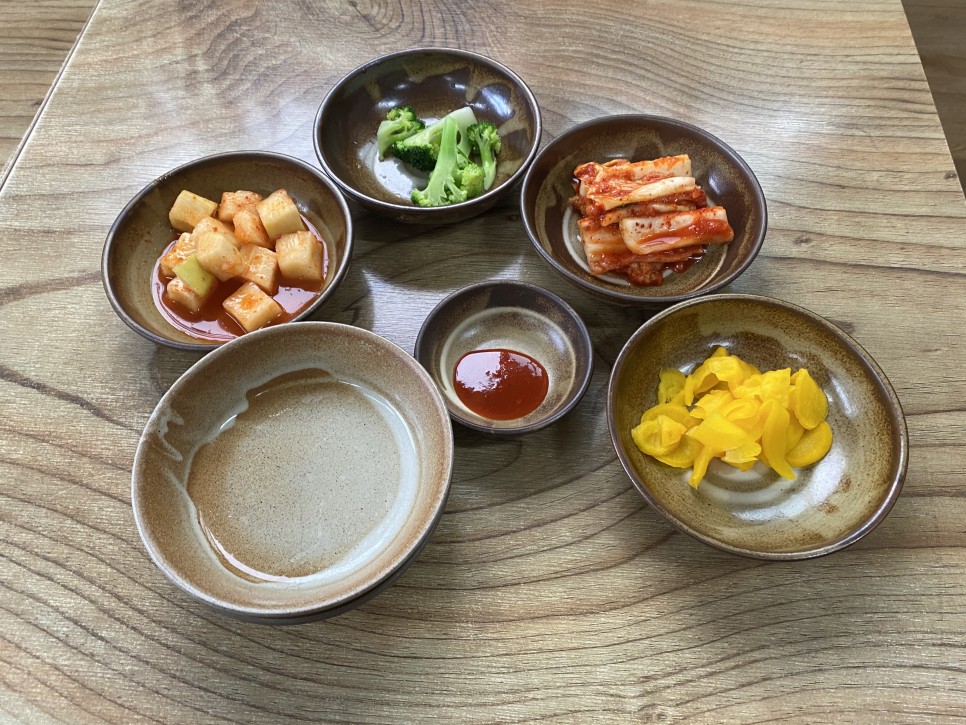 I ordered Daseulgi Son-sujebi. The side dishes that go well with sujebi are served upon order: Chinese cabbage kimchi, kkakdugi (cube-diced radish kimchi), danmuji (yellow pickled radish), and broccoli salad.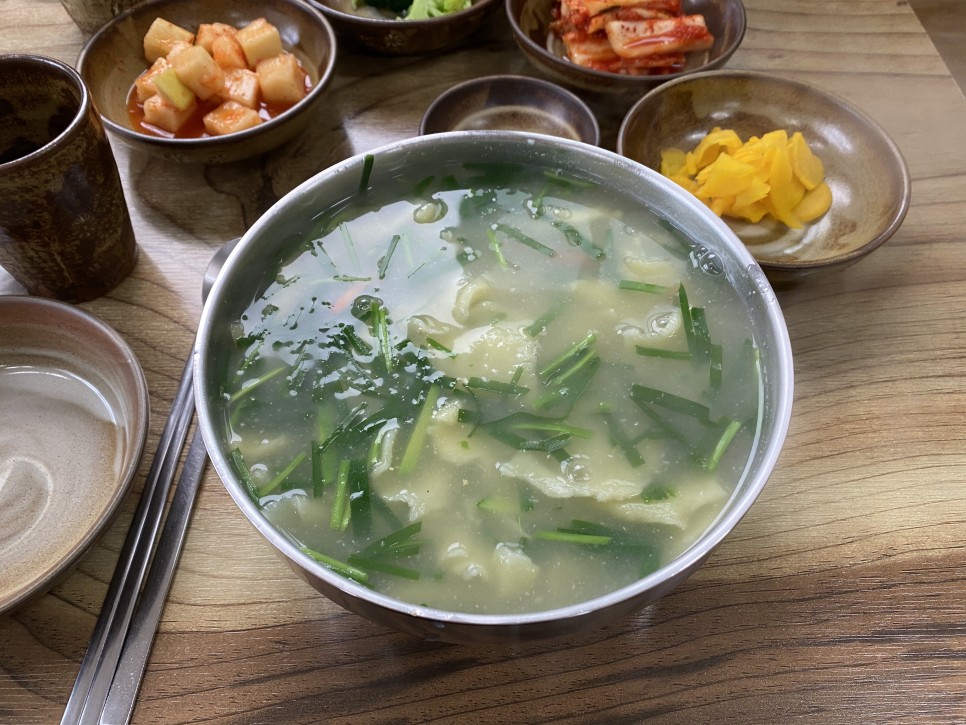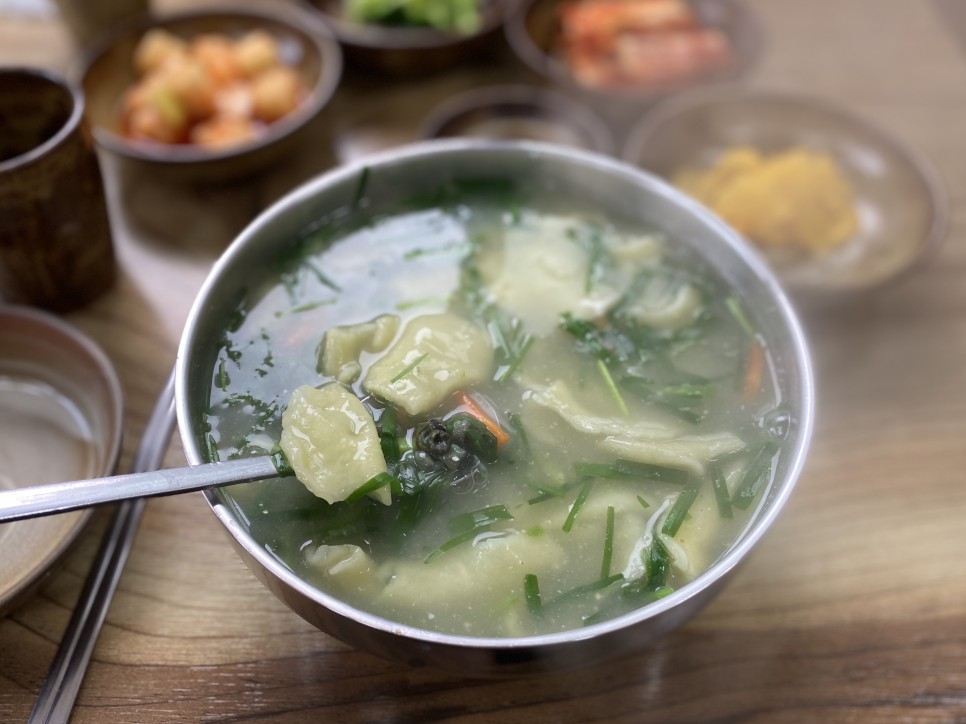 My order is served! There're plenty of leek and daseulgi in my sujebi. The warm broth is slightly spicy and full of flavors, expelling coldness.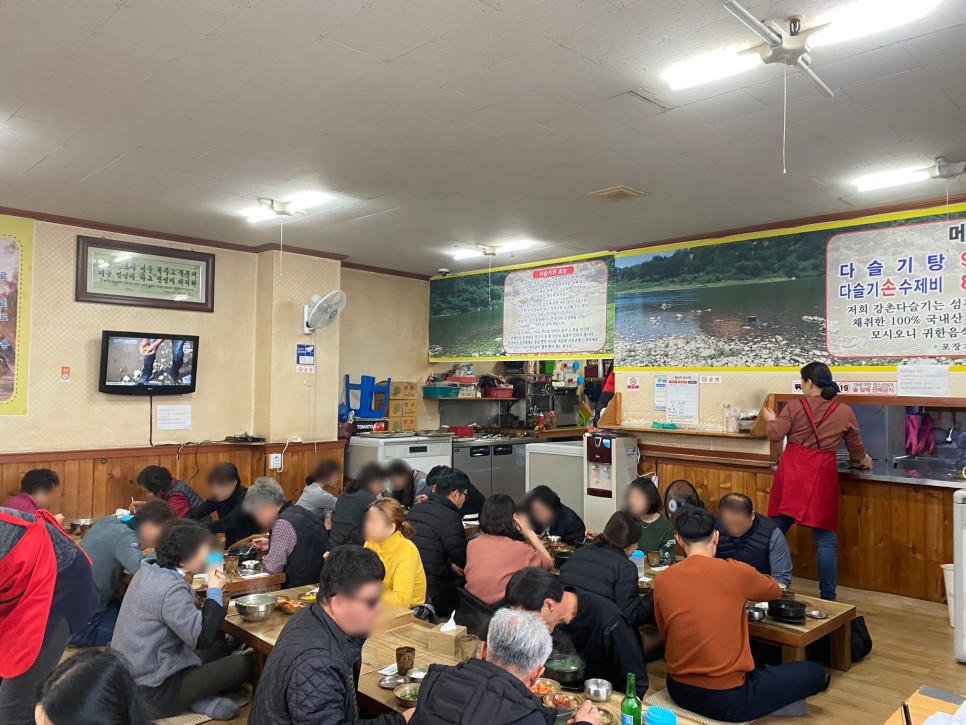 Also, it was a big portion. I finished the meal around lunchtime and the line was forming outside the venue. Surely, sujebi is good for cold winter.
Gangchon Daseulgi
Address: Pyunwoonro 6, Deokjingu, Jeonju
Contact: 063-214-3337
Opening hours: every day 11:00-20:30
I recommend trying patjuk and sujebi before the winter passes. They're simple dish known for being flavorsome and big portion, bringing warmth to your body and heart!
The post Warm Soup Dishes in Jeonju for Cold Winter: Patjuk and Daseulgi appeared first on Jeonju City Blog.