<Experience Unforgettable Nightscapes at Jeonju's Must-Visit Destination: Deokjin Park>
Hello everyone! What's your favorite time of the day? I personally love nighttime the most, mainly because of the unique sights and experiences that can only be enjoyed at night. While taking a night stroll, I suddenly became curious about the night view of Jeonju. Today, I'd like to introduce you to Deokjin Park, one of the must-see night view spots in Jeonju.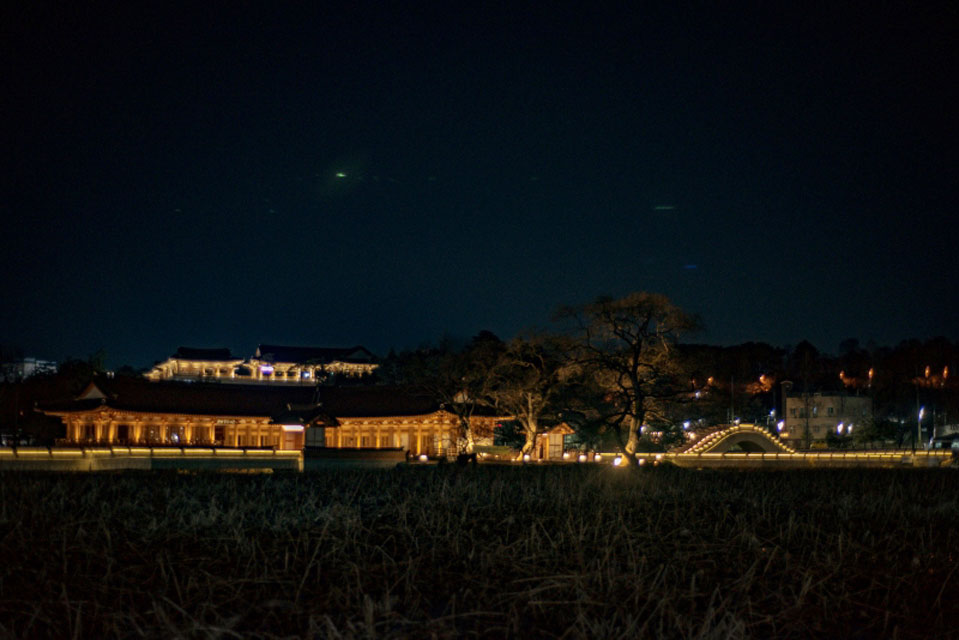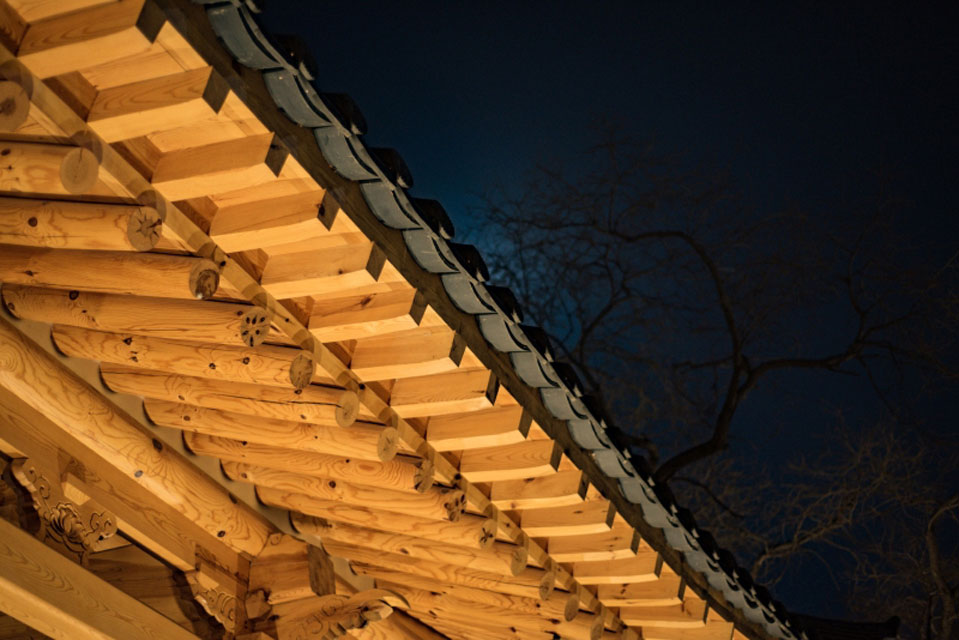 "Discover the Alluring Night Views Near Jeonbuk National University in Jeonju"
Deokjin Park is located near Jeonbuk National University and encompasses Deokjin Pond. It is a famous recreational
area and a representative park in Jeonju. Towards the end of June, the park is well-known for its beautiful lotus flowers that fill the lake. I visited Deokjin Park just as the cold winter air was leaving and the warm spring breeze began to blow. It made me want to come back again when the lotus flowers are in full bloom.
Deokjin Park is a popular dating spot for university couples, particularly those from Jeonbuk National University, which is right next door. Even though I visited late at night, there were still many college students and tourists who seemed to be from out of town.
It takes about 30 minutes by bus from Jeonju University to Deokjin Park, making it a great spot for students from that university as well. There is no entrance fee
and no time restrictions, so it's an excellent place to enjoy the night view of Jeonju.
At the entrance, there's a gate that signifies the beginning of the park. Passing through it, I felt a sense of welcome. The entrance, stylishly decorated with traditional Hanok architecture, is a testament to Jeonju's reputation as a famous Hanok village. The area around the entrance is a bit dark, but as you go further in, a dazzling night view awaits. Thanks to this, I could feel the excitement of traveling after a long time.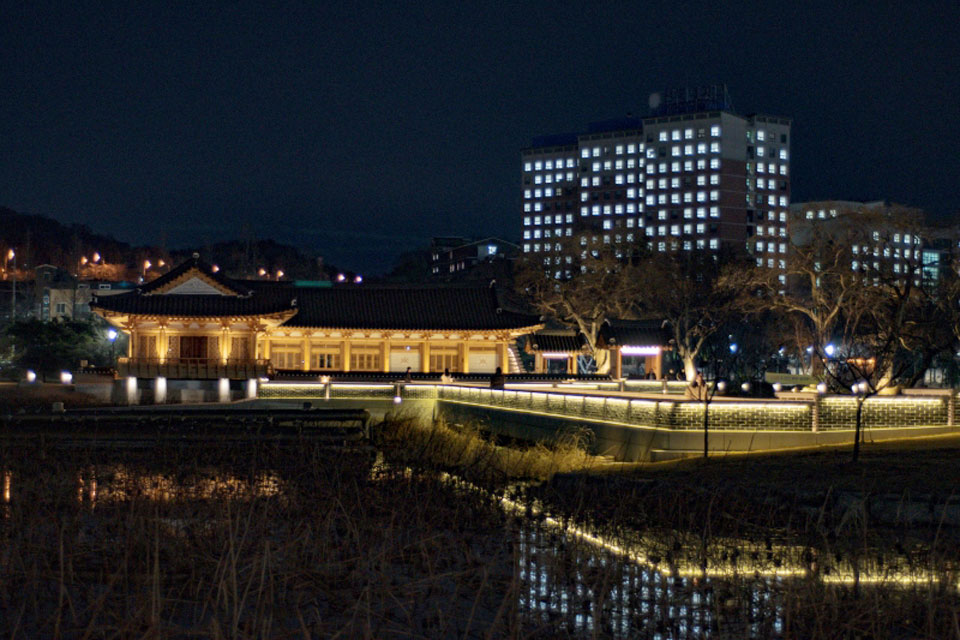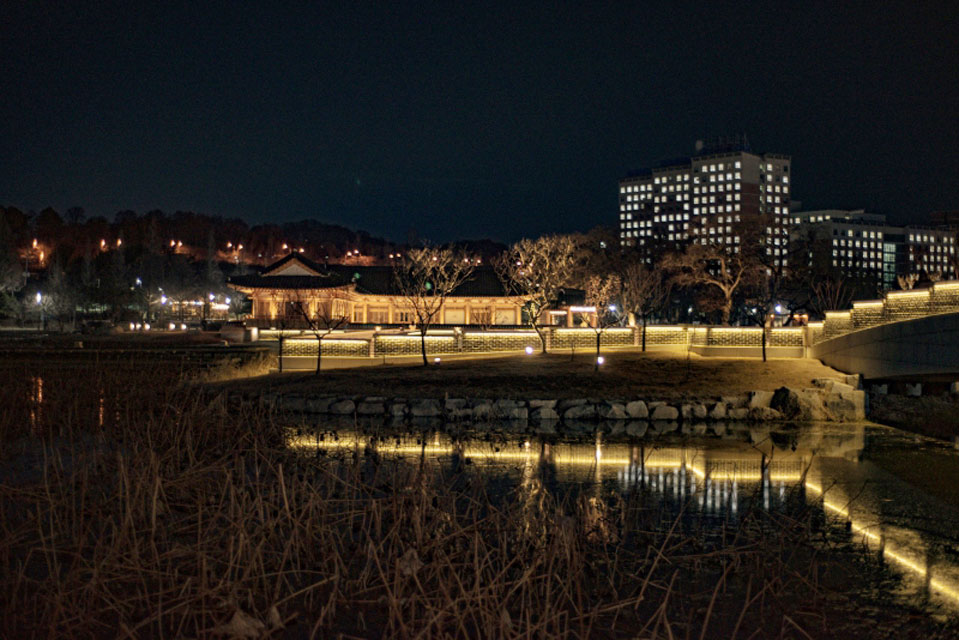 "Immerse Yourself in the Captivating Charm of Korean Aesthetics at Yeonhwajeong Library ✨"
In the middle of Deokjin Park's pond,
there's a stone bridge called Yeonhwagyo, and at the center of this bridge, you'll find the beautiful Hanok-style Yeonhwajeong Library. Some people even visit Deokjin Park specifically to see this library. Although you can't use the library at night, I was really looking forward to its night view.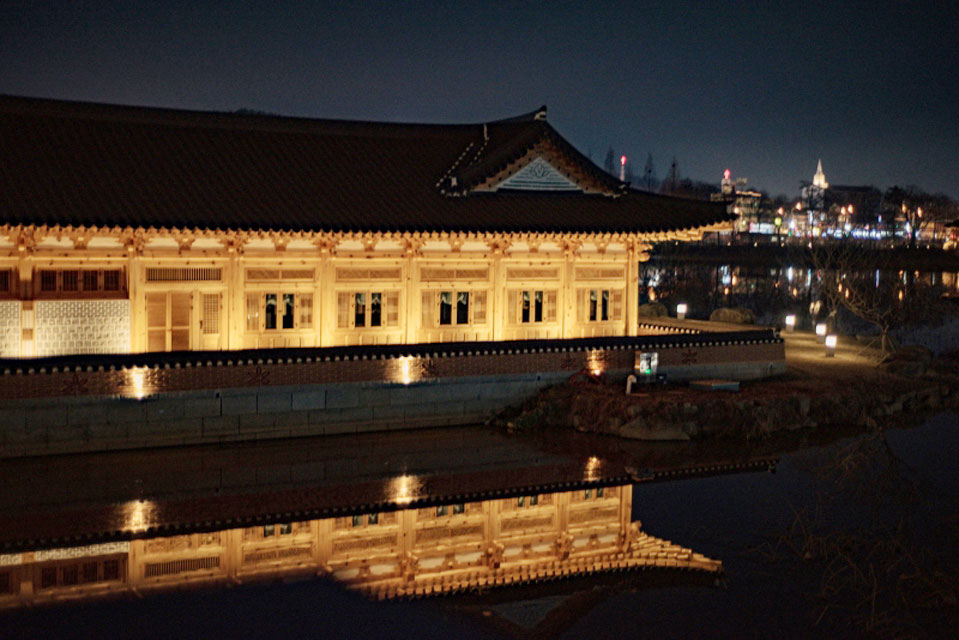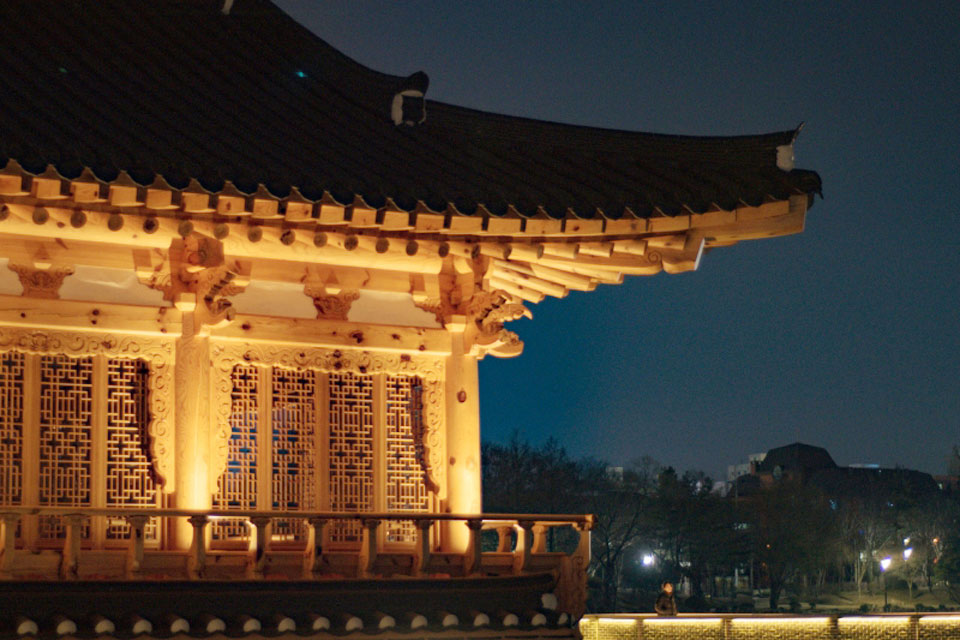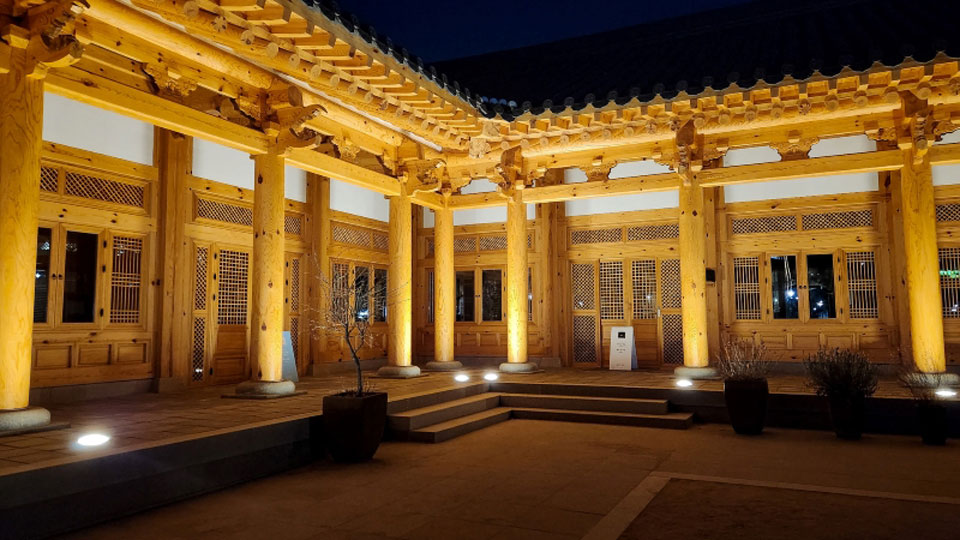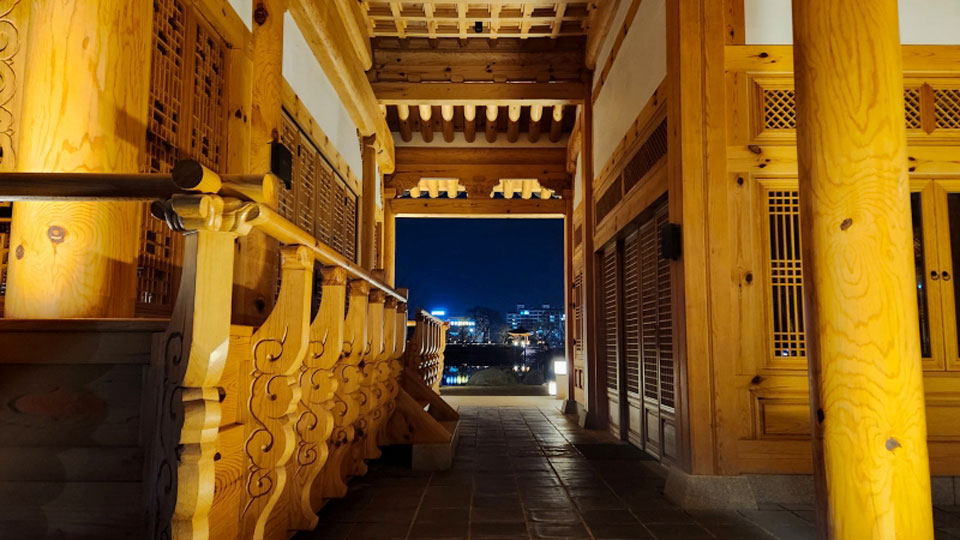 The library building exudes a strong Korean vibe. Yeonhwajeong Library is open daily from 10 AM to 7 PM, except for Mondays when it's closed. Unfortunately, I visited at night and couldn't explore the interior.
If you want to use Yeonhwajeong Library, I recommend visiting during the daytime when it's not a Monday. Although I couldn't go inside, I was able to fully enjoy the beautiful night view of the Hanok through the surrounding lights.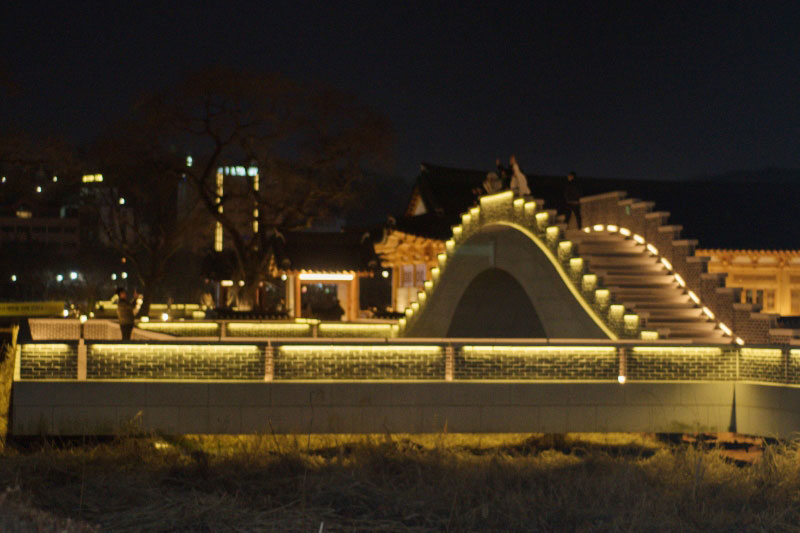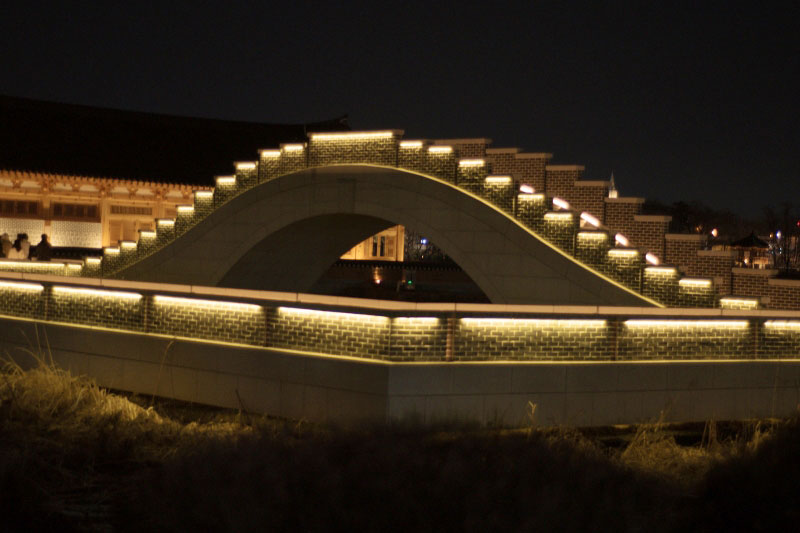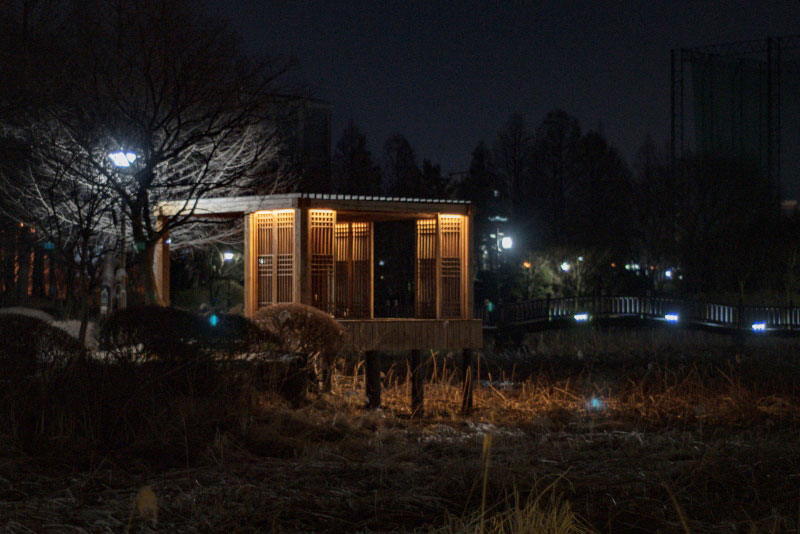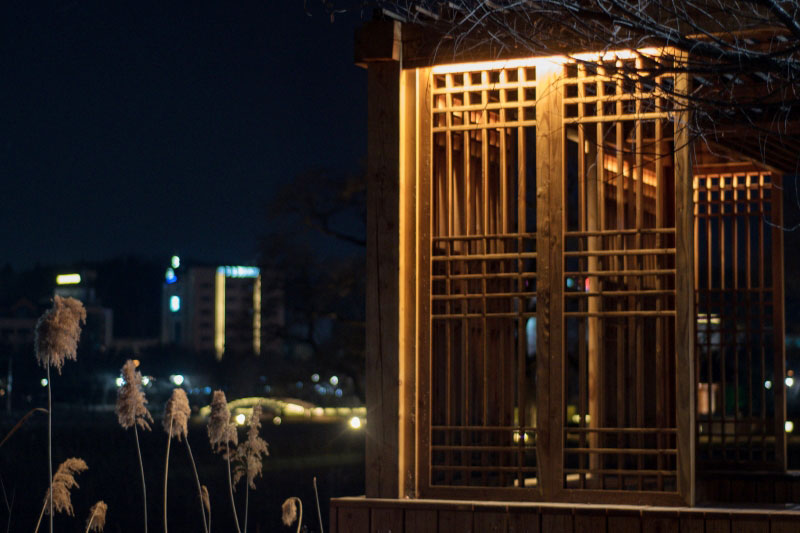 "Unveiling the Enchanting Fusion of Straight and Curved Lines at Yeonhwagyo Bridge ✨"
Next, I admired the night view of the beautiful Yeonhwagyo Bridge, where straight and curved lines come together in harmony. The bridge, which stretches across the pond, is a newly-built stone bridge that replaced the original suspension bridge, also called Yeonhwagyo. The suspension bridge had been a beloved landmark of Deokjin Park for decades but was dismantled due to safety concerns and replaced with the new bridge.
As I looked at the long, sparkling lights along the Yeonhwagyo Bridge, I couldn't help but think how beautiful it was. Deokjin
Pond and Yeonhwagyo Bridge truly complement each other. With so much to see at night in Deokjin Park, you'll never get bored. I highly recommend taking a photo with Yeonhwajeong Library and Yeonhwagyo Bridge in the background at the photo zone.
Near the photo zone, there's a playground that's perfect for kids. If you're a family with young children, I think they'll really enjoy visiting Deokjin Park during the day and exploring the playground together.

‍
‍
‍
Jeonju's Must-Visit Destination: Deokjin Park
390-1, Gwonsamdeuk-ro, Deokjin-gu, Jeonju-si, Jeollabuk-do, Republic of Korea
The post Experience Unforgettable Nightscapes at Jeonju's Must-Visit Destination: Deokjin Park appeared first on Jeonju City Blog.