Gone are the days when guests would call dozens of hotels before making a booking. With today's technological advancements, travellers are now making bookings within minutes by looking for hotels on Google and other search engines.
As you already know, these search engines return thousands of results, with those appearing first getting the bulk of clicks. Making your way to the most prominent positions organically is really difficult as the hotel industry is wildly competitive.
That's where pay-per-click (PPC) comes in. Search ads are a great way of improving your hotel's chances of being the very first website searchers see on Google's search engine results pages (SERPs).
If you're just getting your feet wet in this part of hotel digital marketing and want to learn more, you've landed on the right page. Here, we'll explain everything pertaining to hotel PPC management. From its benefits and how-tos to how they can work for you.
What is PPC Management for Hotels and Why You Need It
Pay-per-click (PPC) is a form of online advertising where advertisers pay a fee every time their ad is clicked. It's a popular alternative to search engine optimization (SEO) due to the fact that it can deliver instantaneous results, regardless of how old your website is.
SEO and PPC ads can also work together to boost your search engine rankings and traffic as people become familiar with your hotel.
Hotel PPC management is basically the management of a hotel's PPC campaigns. This can be done either in-house or by an agency.
PPC for hotels works by targeting travellers who are already searching for hotel-related terms on SERPs. This puts hotels at a huge advantage as most of these potential customers are in the buying stage of the purchase funnel and have their credit cards in hand.
Unlike other forms of advertising, you only pay for performance and not just reach. Google's search engine PPC only carries fees for performance (clicks) and not reach (impressions). As such, it usually carries a high return on investment (ROI).
In summary, PPC can be a cost-effective way for hotels to reach potential customers and drive conversions. However, this can only be done with well-optimised campaigns that won't lead to money wasted on irrelevant clicks and keywords.
The Benefits of Hotel PPC Campaigns
Now that we've covered what PPC is and how it works, here are a few benefits you from this field of digital marketing.
Increase Direct Bookings and Revenue
First and foremost, PPC can help you increase your bookings and, in turn, revenue. With this form of advertising, you can usurp your way to the absolute top of Google or Bing SERPs, generating more bookings and revenue.
This is particularly advantageous if your SEO efforts aren't bearing fruit and you're nowhere near the top with organic traffic.
Secure Last-Minute Bookings
While a lot of people plan their travels months in advance, there is a sizable number that don't. These travellers are in a race against time and availability, so they're likely to get hooked on the first good deal they see.
By appearing at the top of the SERPs, your hotel will be the first thing they see, and they're very likely to book immediately.
Fast Results
As already stated, PPC is often used as an alternative or in tandem with SEO. The main reason for this is that PPC can deliver results in an instant. You could create your campaign today and get your first customer within minutes.
In comparison, even the best-executed hotel SEO strategy takes time to yield results.
Bolster Online Visibility
If you're a new hotel brand in the hospitality industry, it can be hard to show up on the search engine results pages. After all, you're competing with industry giants that have been getting clicks since the internet became a thing.
Using a PPC ad, you can improve your online visibility to potential customers. If a user sees your website first on the search results page, they're likely to remember you for future reference too, even if they don't immediately interact with your ads.
How to Target These Potential Customers Using Hotel PPC
Hotels can create ad campaigns targeting potential customers in various ways. And while our focus is on search engine campaigns, you aren't limited to just those types of ads.
In brief, you can target potential customers using display ads, which appear on Google's partnered websites based on a user's interests. For example, someone who's previously searched for "hotels in New York" will see your display ad on websites they visit. Another popular format for PPC is video ads, which appear on Youtube and similar platforms.
So, how do you target potential customers and convert them into paying guests? You use the following methods.
Finding Keywords for a PPC Campaign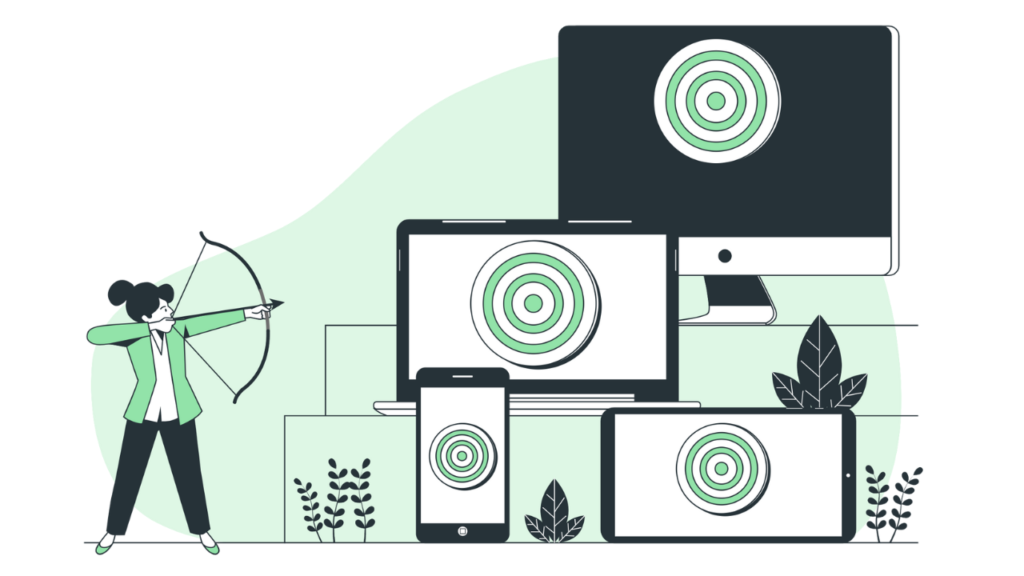 A successful PPC campaign makes use of the best keywords to drive traffic. When a user searches certain terms or keywords, these will trigger your ad if they're eligible. Failing to select the correct keywords could lead to unqualified traffic and wasted money.
When starting out, you want to cast a semi-wide net that targets the right people but can also reach brand new audiences. Researching and knowing your target audience and the search terms they use is crucial.
There are plenty of free and paid tools that can find the type of keywords you should be bidding on. These include the following:
Google Search Console – for hotels with existing websites
Google Ads Keyword Planner
Ahrefs
SEMRush
Wordstream
Additionally, you should opt for long tail keywords as not only do they usually cost less, but they're also extremely targeted. For example, bidding on "hotel in New York " isn't as targeted as bidding on "hotels in downtown Manhattan" or "hotels in downtown Manhattan with a heated pool".
Once you've chosen your keywords, choose their match types. You have the option of broad, phrase, and exact matches for keywords.
Broad match keywords bring the most traffic at the lowest cost, but most of it is unqualified traffic. These are mostly people who are in the early stages of the sales funnel and they may not be looking for your services at that moment.
In comparison, exact match keywords bring the most targeted traffic but at the highest cost. Because the PPC ad is highly targeted, there will be fewer clicks received. However, these have the highest value as they target users who're ready to convert.
Creating the Campaign
The first step in any successful PPC campaign is creating it. And since these ads are made of many small cogs that move the campaign, it's not as easy as just throwing keywords in there and hoping for the best. You'll need an ad copy that helps draw site visitors and gets them to convert.
You'll start with the headline, which is what grabs the attention of a user. For hotels, you'll want to give your headlines a sense of urgency. You can do this by offering limited-time discounts, emphasising deadlines, or other USPs (unique selling propositions).
After the headline comes descriptions. This is where you can give a little more detail to get the reader to click on the ad and ultimately convert. The best way to use descriptions for hotels is by incentivising the user. For example, you could focus on those looking for last-minute bookings by saying there are just a handful of rooms still available.
Creating the Landing Page
When a potential customer clicks on your ad, they have to go to a landing page that will make completing the booking on your hotel website easy. While some advertisers do not create an ad-specific landing page, they go a long way in driving conversions.
A typical hotel landing page should have a call-to-action (CTA) that inspires the user to book a room. It should also be able to answer common questions that they may have, like the amenities on offer and attractions in the area, for example.
Optimising Your PPC Advertising Campaign
After setting up your hotel ads, the next step is optimising them to ensure they're running efficiently and bring in qualified traffic you can be happy with. You can also experiment using different landing pages, headlines, keywords, and the like to see which methods work best for your hotel.
Steps often involved in optimising your hotel PPC ads are changing headlines, descriptions, CTAs, and modifying keywords. The latter can be done by either inserting new keywords or excluding keywords that aren't relevant to your hotel but are generating clicks using Google's negative keywords.
Apart from getting qualified traffic, optimising your ads also helps keep costs down. You should also make sure that your pay-per-click advertising works for mobile devices.
If you need PPC help with any of the above, don't hesitate to contact us.
How Much Do Hotel PPC Ads Cost?
When it comes to hotel PPC, there is no one-size-fits-all answer that will tell you how much each ad will cost. There are various factors that will affect how much you end up spending on your PPC campaigns, including your chosen keywords, your bid prices, and how competitive your market is.
That said, there are some general guidelines you can follow to get an idea of how much you can expect to spend on hotel PPC.
In general, you can expect to pay a cost-per-click (CPC) of at least $1 per click on your hotel ads, with the cost scaling up with each keyword match. The exact cost will depend on various factors, including the popularity of your chosen keywords and the overall competition in your market.
The cool thing is that you won't only start seeing your spending after a few clicks. Google has a handy feature that shows estimates of what you can expect to spend and expected performance while you're setting up your ads. This comes in handy when planning your marketing budget.
If you're just getting started with hotel PPC campaigns, try starting small and gradually increasing your budget the more successful you get. If you're a small hotel generating hundreds of thousands in revenue, expect to spend a few thousand dollars a month. If you're a renowned hotel getting tens of millions in monthly revenue, you have a lot more spending power.
While immediate results are what every marketer wants, using Google Ads for hotels won't bring instant results. This is because advertising in the hotel industry is extremely competitive. As a result, it's likely to take some time to experiment and optimise your keywords and bids before you generate a sizable ROI.
Travel Tractions Can Help with PPC for Hotels
While it seems daunting, paid advertising for hotels is something everyone can do. With enough know-how, research, and the right strategy, you can be the first hotel that searchers see. Alternatively, you can always get an agency to handle your paid ads to give yourself more time to work on the daily running of your hotel.
Travel Tractions is an online marketing agency that specifically deals with the travel niche, including hotels. As a result, we can help you out with all your advertising needs with our tourism PPC services.
From creating a campaign from scratch and drawing up a PPC strategy, optimising an already existing campaign, to auditing and improving your ads, we can help. Using PPC ads, we can drive hotel website traffic that converts.
So, if you're looking to invest in PPC campaigns for hotels, don't wait any further, reach your customers today.
The post Hotel PPC Management – How to Do PPC Advertising for Hotels appeared first on Travel Tractions.